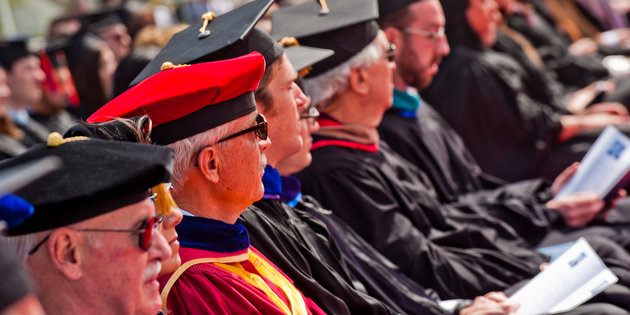 Faculty Directory
The faculty of the Pepperdine School of Public Policy is comprised of leading academics and practitioners in the various fields of public policy who have been carefully chosen not only for their expertise but for their alignment with the mission of the school and their ability to translate their respective academic disciplines into prevailing policy terms.
They are the most vital element in shaping the culture and the values of the School of Public Policy. Of special interest is a view of teaching and scholarship which integrates instruction with research, focuses on the student, and makes informed, practical applications at all levels of planning and decision making. Documents, policies, and materials relevant to School of Public Policy faculty members and performance of their duties are available from the Office of the Dean at 310.506.7490.
A distinctive feature of the school is the use of distinguished public policy scholars and practitioners to augment its own full-time faculty and the faculty of the University's four other schools. This significant use of visiting scholars and practitioners, more widely accepted in a teaching professional school than in a research university setting, contributes to the distinctiveness of the Pepperdine program. Visiting faculty have included policy leaders like Jack Kemp, Michael Novak, Steven Hayward, Hanna Skandera, Victor Davis Hanson, Karen Elliott House, and Kevin Faulconer.
A

B

C

D

E

F

G

H

I

J

K

L

M

N

O

P

Q

R

S

T

U

V

W

X

Y

Z
| Faculty | Job Title | Department | Email | Phone | Letter | Tags |
| --- | --- | --- | --- | --- | --- | --- |
| Bilakovics, Steven | Adjunct Faculty | | | | B | |
| Blanco, Luisa | Professor of Public Policy | | 310.506.7466 | luisa.blancoraynal@pepperdine.edu | B | Business,Economics,Finance |
| Brooks, Bob | Maldonado Fellow | | | robert.brooks@pepperdine.edu | B | |
| Bruno, Carson | Adjunct Faculty | | 310.506.7492 | carson.bruno@pepperdine.edu | B | State/Local/Urban Policy |
| Burke, Lindsey | | | | | B | |
| Chen, Lanhee | Fall 2017 William E. Simon Distinguished Visiting Professor | | | | C | |
| Choi, Anna | James Q. Wilson Visiting Professor 2018–2020 | | | anna.choi@pepperdine.edu | C | Economics,Education,Healthcare Policy,Research Methods/Statistics |
| Cole, Rick | Adjunct Faculty | | | | C | |
| Coyle, James | Adjunct Faculty | | 310.506.7691 | james.coyle@pepperdine.edu | C | American Politics,Public Policy and Politics |
| Ellis, Ashton | Adjunct Faculty | | | ashton.ellis@pepperdine.edu | E | |
| Faulconer, Kevin | Visiting Professor of Community Leadership and Government Innovation | | | | F | |
| Featherstone, James | Executive Director at Homeland Security Advisory Council | | | james.featherstone@pepperdine.edu | F | State/Local/Urban Policy |
| Finley, Emily | Adjunct Faculty | | | emily.finley@pepperdine.edu | F | |
| Fox, Joel | Adjunct Faculty | | | joelfox1@gmail.com | F | |
| Frates, Steven | Senior Fellow | Davenport Institute | 949.500.3513 | sjfrates@roadrunner.com | F | |
| Gailey, Adam | Adjunct Faculty | | | adam.gailey@pepperdine.edu | G | |
| George, Robert | Ronald Reagan Honorary Distinguished Professor | | | | G | |
| Goebel, Brian | Adjunct Faculty | | 310.506.7490 | | G | |
| Graf, Marlon | Adjunct Faculty | | | marlon.graf@pepperdine.edu | G | |
| Graffy, Colleen | Director of the London Semester Associate Professor of Law | | | colleen.graffy@pepperdine.edu | G | International Law |
| Graham, Wade | Adjunct Faculty | | 310.506.7691 | wade.graham@pepperdine.edu | G | Energy Policy,Environmental Policy,State/Local/Urban Policy |
| Hanson, Victor Davis | Inaugural Terry Giles and Kalli O'Malley Distinguished Visiting Professor | | | victor.hanson@pepperdine.edu | H | |
| Hayward, Steven | Edward L. Gaylord Visiting Professor of Public Policy | | | steven.hayward@pepperdine.edu | H | Energy Policy,Government,History (Cultural/Democratic) |
| Herschensohn (In Memoriam), Bruce | Henry Salvatori Fellow (Spring 2003) | | | | H | Government,International Relations/Foreign Affairs,Public Relations/Public Affairs |
| House, Karen | Spring 2014 William E. Simon Distinguished Visiting Professor | | | karen.house@pepperdine.edu | H | |
| Jasso, Sean | Practitioner Faculty of Economics | | | sean.jasso@pepperdine.edu | J | Economics |
| Johns, Joseph | Adjunct Faculty; Environmental and Urban Planning Policy | | 310.506.7691 | joseph.johns@pepperdine.edu | J | Energy Policy,Environmental Policy,State/Local/Urban Policy |
| Johnson, Byron | Distinguished Visiting Professor of Religious Studies and the Common Good | | | | J | |
| Kaufman, Robert | Robert and Katheryn Dockson Professor of Public Policy | | 310.506.7601 | robert.kaufman@pepperdine.edu | K | American Politics,International Relations/Foreign Affairs |
| Keshavarz, Alma | Adjunct Faculty | | | | K | |
| Kmiec, Douglas | Caruso Family Chair in Constitutional Law | | 310.506.4255 | douglas.kmiec@pepperdine.edu | K | Constitutional Law,Ethics/Morality/Character,Law |
| Labosier, Ashley | Senior Fellow | Davenport Institute for Public Engagement and Civic Leadership | 310.506.6878 | ashley.labosier@pepperdine.edu | L | |
| Lloyd, Gordon | Robert and Katheryn Dockson Professor of Public Policy | | | gordon.lloyd@pepperdine.edu | L | Economics,Government,History (Cultural/Democratic) |
| Lynch, Thomas | Adjunct Faculty | | | thomas.lynch@pepperdine.edu | L | Economics,State/Local/Urban Policy |
| McAllister, Ted | Edward L. Gaylord Chair 1998-2023 | Professor of Public Policy | | | M | Ethics/Morality/Character,History (Cultural/Democratic),Religion/Theology |
| McClay, Wilfred | 2019-2020 Ronald Reagan Professor of Public Policy | | 310.506.7490 | wilfred.mcclay@pepperdine.edu | M | |
| McGowan, Kevin | Adjunct Faculty | | | kevin.mcgowan@pepperdine.edu | M | State/Local/Urban Policy |
| McGuigan, Christian | Adjunct Faculty | | | christian.mcguigan@pepperdine.edu | M | American Politics,State/Local/Urban Policy |
| McNeal, Gregory | Professor of Law and Public Policy | | 310.506.7292 | gregory.mcneal@pepperdine.edu | M | Criminal Law and Procedure,Ethics,National Security Law |
| Mihailescu, Andrea | State Department Fellow in Residence 2019–2021 | | | | M | |
| Mitchell, Hattie | Visiting Professor of Education and Policy | | | hattie.mitchell@pepperdine.edu | M | Education,Public Policy and Politics,policy |
| Oh, Dayea | Assistant Professor of Public Policy | | | dayea.oh@pepperdine.edu | O | |
| Peterson, Pete | Dean | | 310.506.8054 | pete.n.peterson@pepperdine.edu | P | Public Policy and Politics |
| Prieger, James | Professor of Public Policy | | 310.506.7150 | james.prieger@pepperdine.edu | P | Business,Economics,Finance,Public Policy and Politics |
| Reichental, Jonathan | Adjunct Faculty | | | | R | |
| Romero, Gloria | Adjunct Faculty | | | | R | American Politics,Education,State/Local/Urban Policy |
| Rowe, Brad | Adjunct Faculty | | | brad.rowe@pepperdine.edu | R | American Politics |
| Sagynbekov, Ken | Adjunct Faculty | | | kenybek.sagynbekov@pepperdine.edu | S | |
| Schnur, Dan | Adjunct Faculty | | | daniel.schnur@pepperdine.edu | S | Political Science,Public Policy and Politics |
| Sellers, Abbylin | Adjunct Faculty | | | | S | |
| Sexton, Robert | Distinguished Professor | | 310.506.4345 | robert.sexton@pepperdine.edu | S | American Politics,Economics,Government,History (Cultural/Democratic),State/Local/Urban Policy |
| Shevchenko, Alexei | Adjunct Professor | | 310.506.7691 | alexei.shevchenko@pepperdine.edu | S | International Relations/Foreign Affairs |
| Shires, Michael | Vice Dean for Strategy and Online Programs | | 310.506.7692 | michael.shires@pepperdine.edu | S | Economics,Education,Energy Policy,Finance/Tax,International Relations/Foreign Affairs,Leadership/Strategy,Nonprofit,Public Relations/Public Affairs,Research Methods/Statistics,State/Local/Urban Policy |
| Sikkenga, Jeffrey | Spring 2018 William E. Simon Distinguished Visiting Professor | | | jeffrey.sikkenga@pepperdine.edu | S | |
| Skandera, Hanna | Visiting Professor of Education Policy and Impact | | | | S | Education,policy |
| Skinner, Kiron | Taube Professor of International Relations and Politics | | 310.506.8048 | kiron.skinner@pepperdine.edu | S | Public Policy and Politics |
| Spalding, Elizabeth | Senior Fellow | | | | S | |
| Streeter, Ryan | | | | | S | |
| Sublett, Cameron | Adjunct Faculty | | | cameron.sublett@pepperdine.edu | S | |
| Tamura, Robert | Spring 2011 William E. Simon Distinguished Visiting Professor | | | robert.tamura@pepperdine.edu | T | |
| Tapia, Primo | Adjunct Faculty | | | primo.tapia@pepperdine.edu | T | |
| Varadarajan, Tunku | Adjunct Faculty | | | | V | |
| Watts, Steven | Adjunct Faculty | | | steven.watts@pepperdine.edu | W | Economics,Religion/Theology |
| Wendel, Peter | Professor of Law | | | peter.wendel@pepperdine.edu | W | Property,Wills and Trusts |
| Wilburn, James | Dean Emeritus | | 310.506.7490 | james.wilburn@pepperdine.edu | W | American Politics,Economics,History (Cultural/Democratic),International Relations/Foreign Affairs,Leadership/Strategy |
| Wilson, James Q. | Ronald Reagan Professor of Public Policy | | | | W | |