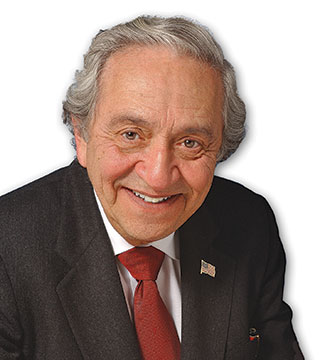 Bruce Herschensohn (In Memoriam)
Henry Salvatori Fellow (Spring 2003)
Senior Fellow in International Relations
John M. Olin Distinguished Visiting Professor (2000-2001)
School of Public Policy
Biography
Bruce Herschensohn was a television and radio political commentator, who taught a beloved course on foreign policy at SPP for over a decade. After retiring from teaching, Herschensohn gave regular lectures on current events for many years After service in the United States Air Force, he began his own motion picture company and was appointed director of motion pictures and television for the United States Information Agency (USIA). In 1969, he was selected as one of the Ten Outstanding Young Men in the Federal Government. He received the second-highest civilian award, the Distinguished Service Medal, and then became deputy special assistant to President Nixon. He was appointed a member of the Reagan Transition Team and in 1992 was the Republican nominee for the United States Senate in California. He was a Fellow at the John F. Kennedy Institute of Politics at Harvard University and a Distinguished Fellow of the Claremont Institute.
Herschensohn is the author of several books, the most recent being, Above Empyrean (2008) and An American Amnesia (2010).
Bruce Herschensohn Scholarship Program
With Herschensohn's passing in 2020, the opportunity now exists to engage and support our next generation of public leaders through an endowed scholarship program in his name. Through the Bruce Herschensohn Scholarship Program, future generations of leaders will learn about Herschensohn as it offers his many friends and former students the opportunity to carry on his legacy.
Education
Distinguished Fellow, Claremont Institute
Fellow, Nixon Center for Peace and Freedom
Former Fellow, John F. Kennedy Institute of Politics, Harvard University
Topics
Foreign and Domestic Policy
U.S. Image Abroad
Worldwide Political and Governmental Affairs
Courses
MPP 661 The World Leadership Role of the United States