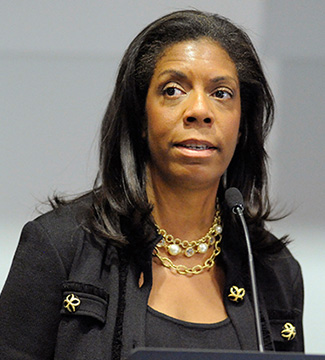 Kiron Skinner
Taube Professor of International Relations and Politics
School of Public Policy
Biography
International relations, US foreign policy, and political strategy expert Kiron Skinner is the Taube Professor of International Relations and Politics at Pepperdine School of Public Policy.
Skinner previously served as the Taube Professor for International Relations and Politics at Carnegie Mellon University's Institute for Politics and Strategy and was a faculty member in the Department of History and the Department of Social and Decision Sciences (SDS) at the university's Dietrich College of Humanities and Social Sciences. At Carnegie she also directed the Center for International Relations and Politics and the Carnegie Mellon University Washington Semester Program. Skinner continues to serve as the W. Glenn Campbell Research Fellow at the Hoover Institution at Stanford University.
Skinner's past government service includes membership on the US Department of Defense's Defense Policy Board as an adviser on the Iraq and Afghanistan Wars, the Chief of Naval Operations' Executive Panel, the National Academies Committee on Behavioral and Social Science Research to Improve Intelligence Analysis for National Security, and the National Security Education Board. From 2012 to 2015 she served on Pennsylvania governor Tom Corbett's Advisory Commission on African American Affairs.
Skinner is an award-winning and best-selling author with particular scholarship focused on the life and public policy of former president Ronald Reagan. Her coauthored books Reagan, In His Own Hand (2001) and Reagan, A Life in Letters (2003) were New York Times best sellers. Reagan, In His Own Hand won the Hoover Institution's Uncommon Book Award in 2002.
Skinner is a lifetime director on the board of the Atlantic Council in Washington, DC. She is a member of the Council on Foreign Relations in New York City and the Pacific Council on International Policy in Los Angeles.
Education
PhD, Harvard University
MA, Harvard University
BA, Spelman College
Areas of Expertise
International Relations
US Foreign Policy
Political Strategy
Cyber Security