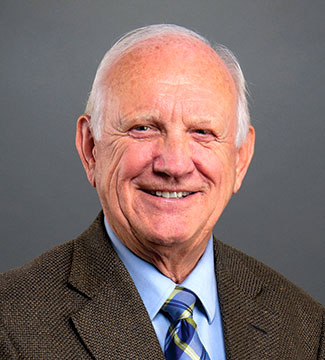 James Wilburn
Dean Emeritus
School of Public Policy
Biography
Dr. James R. Wilburn served as inaugural dean of Pepperdine University's School of Public Policy for eighteen years, beginning in 1996, after two years on the school's national founding advisory committee. Previously he served as dean of Pepperdine's Graziadio School of Business for 12 years where he was also a professor of Business Strategy with the nation's foremost program for mid-career adults with the third largest MBA enrollment in the nation. As business school dean he initiated plans to launch the development of the Drescher graduate campus which now houses three of the graduate schools.
Wilburn formerly served Pepperdine as Vice President of Advancement and as Provost and chief operating officer of its original campus in Los Angeles. As business school dean, he founded, jointly with Baron Edmond de Rothschild, the annual Conference on Strategic Alliances in Geneva, and was invited to speak to the European Parliament. As a member of the European Parliament Industrial Council, he was listed in Who's Who in International Business and was asked by the prime minister of Russia to serve as chairman of the U.S. Committee to Assist Russian Reform, a program that led to funding from the United States Department of State. Formerly appointed by President Ronald Reagan to chair the board of the CFTR Education Foundation, he has served as a director on a dozen corporate boards in Europe and the U.S. including banking and venture capital as well as home building, manufacturing, and security technology..
The author of several books on American history, business management, public policy and leadership, he is the recipient of the McGarvey Award for American History and of the George Washington Medal of Honor from Freedoms Foundation of Valley Forge. He has published and spoken widely on aspects of Russian economic reform.
Wilburn received his PhD in economic history from the University of California at Los Angeles, a master's degree in History from Midwestern State University and an MBA from Pepperdine's Presidential/Key Executive program. He received bachelor's and master's degrees in Biblical studies from Abilene Christian University.
Education
PhD, Economic History, University of California, Los Angeles
MBA, Pepperdine University
MA, Midwestern State University
MA, Abilene Christian University
BA, Abilene Christian University
Topics
American History
Business Ethics
Business Strategy
Economic History
International Business
Leadership