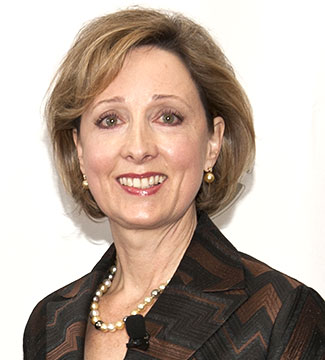 Colleen Graffy
Director of the London Semester Associate Professor of Law
School of Public Policy
Biography
Professor Graffy has recently returned to Pepperdine after serving as Deputy Assistant Secretary of State for Public Diplomacy for Europe and Eurasia at the U.S. State Department. In that capacity, she travelled to over 40 countries and worked with U.S. embassies and a team in Washington, DC to communicate U.S. policy, values and culture. She created the first ever "media hub" for the U.S. government with radio and television broadcasting facilities based in Brussels, Belgium. In order to reach younger audiences, an area that she identified as critical to U.S. public diplomacy, she established the "Ben Franklin Transatlantic Fellowship," a program that brings together high school students from former eastern block countries, Western Europe and the U.S. to study comparative constitutions and rights--in addition to fostering longterm relationships among nations. Professor Graffy was the first high level US government official to actively advance "Public Diplomacy 2.0" using Twitter and other social media platforms to further U.S. communications.
Originally from Santa Barbara, California, Professor Graffy earned her B.A. from Pepperdine University and her M.A. from Boston University. She then served as co-director of Pepperdine's Year-in-Europe program in Heidelberg, Germany. Professor Graffy completed the Diploma in Law in London. After attending the Inns of Court School of Law, she was called to the Bar of England and Wales as a Barrister of the Middle Temple and received her LL.M. in international law through King's College, University of London with merit.
Professor Graffy is a member of the International Institute for Strategic Studies, The Royal Institute of International Affairs, The British Institute of International and Comparative Law, The Pilgrims, and The British American Project. She was Chairman of the Society of English and American Lawyers and is a Bencher of the Middle Temple. Professor Graffy has written on legal issues in the United States and Britain and is a frequent commentator for radio and television on transatlantic political, legal, and cultural issues including BBC Radio Four The Today Programme, Any Questions? BBC TV HARDtalk, Andrew Marr Show, Al Jazeera Frost Over the World with Sir David Frost, SKY TV, and CNN.
She returns to Pepperdine in a new position as director of global programs in addition to her role as academic director of the London program.
Professor Graffy oversees the London Moot and Clinical Program. Her teaching includes: Public International Law, International Environmental Law, International Law and the Use of Force, and Legal Ethics.
Education
LL.M., King's College, 1996, with merit
Diploma in Law, City University & Inns of Court School of Law, 1991
M.A., Boston University, 1982
B.A., Pepperdine University, 1979
Topics
Diplomacy
Environmental Law
International Law