Education Policy and Impact at SPP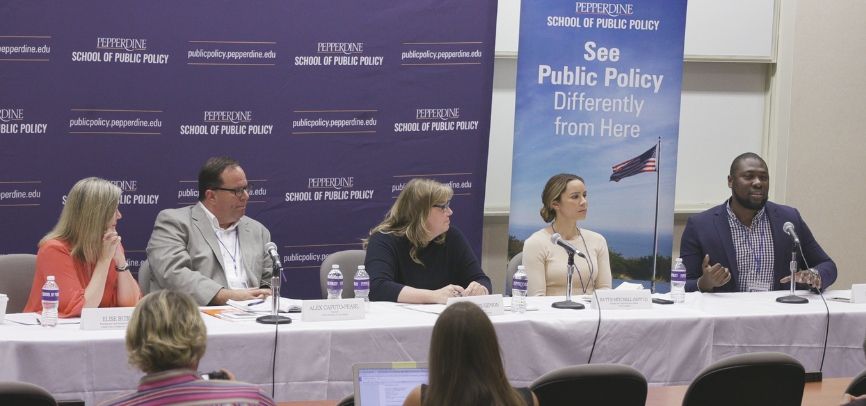 The "Education Policy and Impact" initiative based at the School of Public Policy is a multi-part initiative intended to both prepare policy leaders as it engages current policymakers in civil discussions about the future of America's education system. Launched in the fall of 2019, this program builds upon the existing work SPP has undertaken in coursework, research, and public events.
Led by our Visiting Professor of Education Policy and Impact and Visiting Professor of Education and Policy, this classroom-based learning provides our students with opportunities to hear from a number of nationally-recognized education policy practitioners. The program is also supported and guided by an Advisory Council comprised of many of the country's leading education policymakers, researchers, and activists that meets regularly to discuss new coursework and program opportunities.
As with all of our programs and research, Pepperdine's School of Public Policy takes a holistic approach to education policy—exploring the historical and philosophical dimensions underlying current debates, as we highlight ways in which the public can be better informed and involved in determining education policy.
Hanna Skandera, Visiting Professor of Education Policy and Impact
Hanna Skandera has more than two decades of executive leadership experience in a variety of national and state-level private, public, and nonprofit organizations. Currently, Skandera serves as president and chief executive officer at the Daniels Fund in Denver, Colorado, where she directs all programs and oversees the scholarship and grantmaking process to continue the long-standing mission of the Daniels Fund to be a core contributor in local communities and human betterment. Prior to this role, Skandera was president and CEO of Mile High Strategies serving as an education and employability thought leader and advisor in leadership development and strategy. Skandera is also the editor-in-chief of The Line, founder of Pathway 2 Tomorrow, chief in residence with Chiefs for Change, and co-founder of the Women in Leadership Initiative. Previously, Skandera served as secretary of education for the State of New Mexico, undersecretary of education for Governor Arnold Schwarzenegger, deputy commissioner for Governor Jeb Bush, and deputy chief of staff and senior policy advisor for US Secretary of Education Margaret Spellings. Skandera was also a research fellow with the Hoover Institution at Stanford University and a Pahara-Aspen Institute fellow. Skandera graduated cum laude with a degree in business from Sonoma State University and graduated from Pepperdine School of Public Policy.
Hattie Mitchell, Visiting Professor of Education and Policy
Hattie Mitchell is a social justice entrepreneur and the Founder of Crete Academy. In her role as Principal of Crete, a non-profit, charter school, she serves children in South Los Angeles who are experiencing homelessness and living in poverty. Through an integrated school model, which she developed, she and her team support 133 students in grades TK-6th. Prior to founding Crete, Mitchell worked for a national charter management organization expanding their portfolio of charters around the country. During her tenure as an educator, Mitchell served as a second and fifth grade teacher, Dean of Students and worked at both the state and federal levels on education policy initiatives. As the Chief of Staff for Student Programs at the Louisiana Department of Education, Mitchell led the state's Race to the Top program. In her federal education role, she worked for President Obama, as an education intern and led the first White House Conference on Bullying Prevention. Mitchell holds a bachelor's degree in Urban Learning and Multiple Subjects Teaching Credential from California State University Los Angeles, a master's degree in Public Policy from the Pepperdine School of Public Policy, and a doctorate degree in Educational Leadership from the University of Southern California.