Pepperdine Policy Review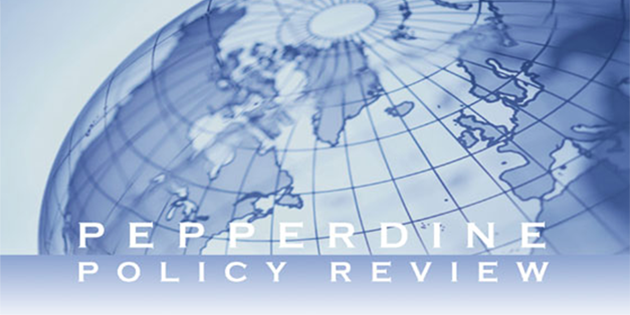 Our Mission
The Pepperdine Policy Review is a student-run journal that showcases the best scholarly work of School of Public Policy students at Pepperdine University. It features articles, commentaries, opinion pieces, and book reviews that address a variety of issues from health care and national security to political philosophy.
The mission of the Pepperdine Policy Review is to publish the best scholarly research, innovative policy solutions, and insightful commentary that School of Public Policy students have to offer. This journal seeks to inform policy makers, academic researchers, and the general public of ideas that will help transform public policy debate in the U.S. and abroad. All articles are thoroughly reviewed by student editors and must meet rigorous academic standards.
ISSN (print): 2158-2572
ISSN (online): 1946-7192
 

Current Editorial Board

2021-2022 Editorial Board

President & Editor-in-Chief:
Jackson Grasz

Vice President & Managing Editor:
Jordan Parrish

Editors:
Abby Butikofer
Jacob DePeralta 
Jackson Grasz
Austin Hardman
Lawson Mensell
Gabriel Millar 
Simone Nicholson
Jordan Parrish
Miles Pollard
Ashley Sugar 

Faculty Advisor:
Dr. James Prieger
 

VOLUME XIV - 2022
 

VOLUME XIII - 2021
 

VOLUME XII - 2020
 

VOLUME XI - 2019
 

VOLUME X - 2018
 

VOLUME IX - 2017
 

VOLUME VIII - 2015
 

VOLUME VII - 2014
 

VOLUME VI - 2013
 

VOLUME V - 2012
 

VOLUME IV - 2011
 

VOLUME III - 2010
 

VOLUME II - 2009
 

VOLUME I - 2008
All volumes of Pepperdine Policy Review may also be viewed and downloaded through the Pepperdine Libraries Digital Commons repository.
Articles published in Pepperdine Policy Review do not necessarily reflect the views of the Editorial Board or the School of Public Policy. The journal is published annually and accepts submissions from current students and alumni of the School of Public Policy.