Academic Services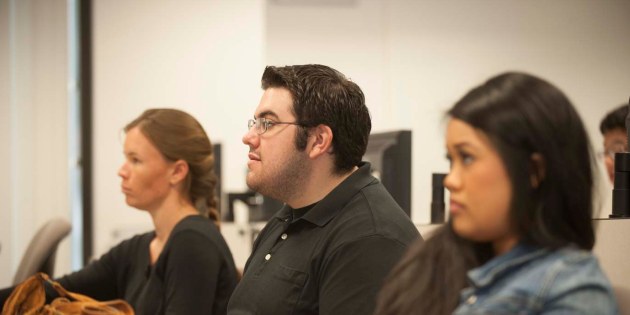 Welcome to SPP Student Services. Individuals who are considering applying for the program should contact the admissions office for general information. Enrolled students are provided academic and career counseling through the faculty and staff. Currently enrolled students who are interested in academic advising may email CJ Jones.
New and continuing students are welcome to the School of Public Policy at Pepperdine University and the start of the coming academic session.
An official registration period is scheduled prior to the opening of each semester. Students will register online. Students are eligible to register if they are academically and financially in good standing. Students who have not submitted official transcripts will be unable to register until the transcripts are received by the Office of Admission. Students with holds due to financial obligations should contact the Office of Student Accounts 310.506.4981 prior to registration. Students who register after the official registration period may be charged a late registration fee. Students who do not complete registration properly are not considered officially enrolled and will be denied all credit for the semester. When students register, they have officially enrolled and are committed to attending classes. Students should follow the instructions and dates provided for successful enrollment.
Registrar
The Office of Student Information and Services assists current students, alumni, parents, faculty members, and University staff with a wide variety of services including:
Registration, add/drop, withdrawal
Tracking degree progress (degree audit)
Grade reporting
Academic transcripts
Enrollment and/or degree verification
Academic calendar
Graduation and diplomas
Schedule building
Student academic records maintenance
Name and address changes
VA academic support
Applied Research Methods Study Labs are held several times a week by selected graduate assistants to review class material and assist students with skills obtained in the core Applied Research Methods in Public Policy class.

Economics Study Labs sessions are held several times a week by selected graduate assistants and review areas and topics examined by the core economics classes. Sessions are ideal for reviewing class material and improving skills in economic analysis. They are free and all School of Public Policy students are encouraged to attend.
Writing Labs are held twice a week by a selected graduate assistant and provide assistance in macro-level editing, recommendations on developing coherent organization, and guidelines for improving writing and style. Lab sessions are free and all School of Public Policy students are encouraged to attend.
Libraries
The Pepperdine community is served by four libraries as well as the Jerene Appleby Harnish Law Library on the Malibu campus. University libraries include Payson Library and the Drescher Graduate Campus Library in Malibu, the West Los Angeles Graduate Campus Library, and the Irvine Graduate Campus Library. Library materials are listed in the online catalog, which is accessible within the libraries and from the University libraries' website. All circulating items in the Pepperdine libraries are available to all students and alumni and may be requested through the catalog for pickup at Malibu or at graduate campuses. For current Pepperdine students, a variety of electronic information, including journal articles, books, dissertations, and reference items, is available online. Reference librarians are available for research assistance during posted hours at Payson Library, Drescher Graduate Campus Library, West Los Angeles Graduate Campus Library, and Irvine Graduate Campus Library. An email and chat reference service, Ask-A-Librarian, is also available through the University libraries' Web site. Additional information about University libraries may be found on the Web site at library.pepperdine.edu.
Auditing a Course
Current School of Public Policy students, alumni, and members of the community may audit certain courses with the consent of the instructor and the Office of the Dean, space permitting and with a cumulative grade point average of 3.5 or better, if applicable. Course audits are limited to one course per semester with a limit of two total audited courses and are subject to a $250 fee per course audited.