P4: Pepperdine Policy Partners Program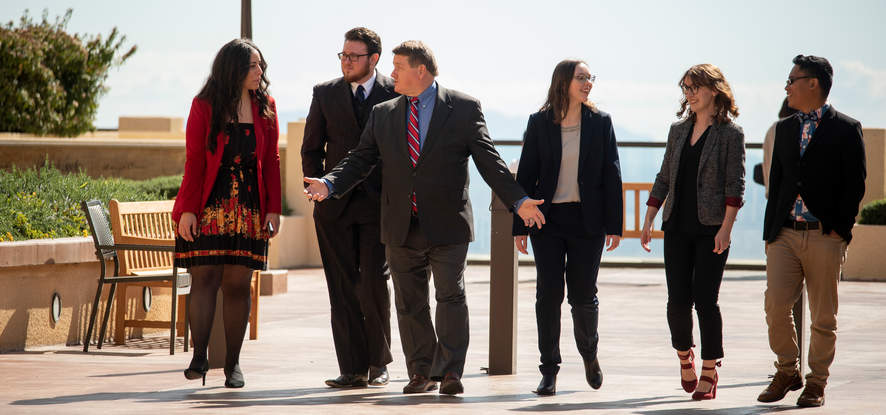 Partnerships
The Pepperdine School of Public Policy (SPP) stands committed to our founding principles in preparing the next generation of public leaders. Our unique liberal arts curriculum that balances the quantitative aspects of policy analysis with the study of applied history and philosophy continues to develop public leaders who consider their "moral sense" upon entering careers in the private sector, nonprofit and civic arenas, government, and academia.
Some of our most successful students are those who have graduated from or participated in respected social science programs and co-curricular fellowships. To recognize the rigor of these programs, we launched the Pepperdine Policy Partners Program—"P4"—making available admission and program benefits to P4 applicants:
The Fall 2022 application portal will open on Friday, October 1, 2021. GRE/GMAT/LSAT are optional this year.
Confirm P4 Eligibility
P4 Application Instructions
Check to see if you are an eligible P4 member (refer to the current participating P4 organizations list)
Begin your application (view admission page)
Upload ONLY your resume (include your P4 affiliated organization) and undergraduate transcript (showing courses and cumulative GPA). Wait to upload your ethical moral dilemma essay and official test scores.
Submit your application (this does not finalize your application)
(Note: You will be able to return and complete your application once your P4 tier is confirmed. Your documents will be reviewed and your P4 tier level will be emailed to you. Your P4 status must be approved by the assistant dean of admissions before P4 benefits are granted. Email sppadmissions@pepperdine.edu for questions.)
Participating P4 Organizations

Please review the list of current participating P4 organizations. If you are part of one of the below organizations, you may be eligible for Pepperdine School of Public Policy academic benefits.
P4 Benefits
All P4 applicants are eligible for:
Pending review of program elements and based on criteria set forth in the SPP Academic Catalog, the transfer of six (6) elective credits.

An early class registration time for the first term of enrollment.
See below the tier levels for eligibility.
Applicants with a minimum undergraduate GPA of 3.7:
Applicants with a minimum undergraduate GPA of 3.2 and up to 3.7:
Applicants with a minimum undergraduate GPA of 3.0 and up to 3.2:
Minimum 40 percent of tuition scholarship
P4 Student Testimonials
Anthony Barr
P4 Partner: CCCU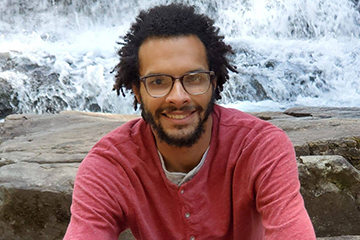 "I chose Pepperdine because of its emphasis on normative questions and moral analysis as an important (but often neglected) aspect of public policy. Given my background in humanities, I was delighted that this school would allow me to continue drawing from the insights of history and philosophy, while sharpening my quantitative reasoning skills. As a P4 student, the application process was streamlined and the scholarship offer made the program financially feasible for me."
Chloe Buckler
P4 Partners: CCCU, Charles Koch Fellows, DC Policy Scholars, AEI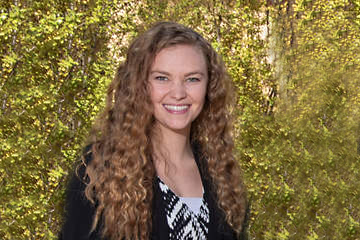 "I will be forever grateful for the P4 Program—it not only made my application process straightforward, but the standardized test score waiver made it possible to start my professional degree early. The P4 program takes an individual's practical policy involvement into account through the admission process. The structure of the admissions process allowed me to focus on articulating how my policy experience had prepared me for the MPP program. The generous scholarship made it financially feasible for me to pursue my dream and participate in a program that will better prepare me to serve my community."
Michael Huling
P4 Partner: PragerForce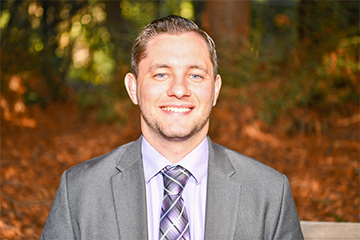 "The P4 affiliate program not only exposed me to the Pepperdine School of Public Policy, but expedited the application process to make my transition into graduate school much smoother. The corresponding benefits made the program far more affordable and accessible, and the School of Public Policy's commitment to investing in students by providing us with every opportunity for success is one of many things that makes this institution so special."
Abigail Scott
P4 Partner: OC Lincoln Club Institute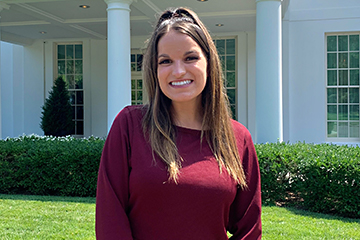 "I am overwhelmed with gratitude for the P4 Program through my involvement with the Lincoln Club Institute. When I was searching for a graduate public policy program that aligned with my values and aspirations, the P4 program distinguished Pepperdine from any other higher institution. The generous tuition scholarship lifted financial barriers that come with the pursuit of an advanced, professional degree. By waiving the standardized test score, this allowed me to focus on my personal statement and emphasize aspects of my application that I believed would most accurately convey my background, strengths, and passions."