School of Public Policy Cost of Attendance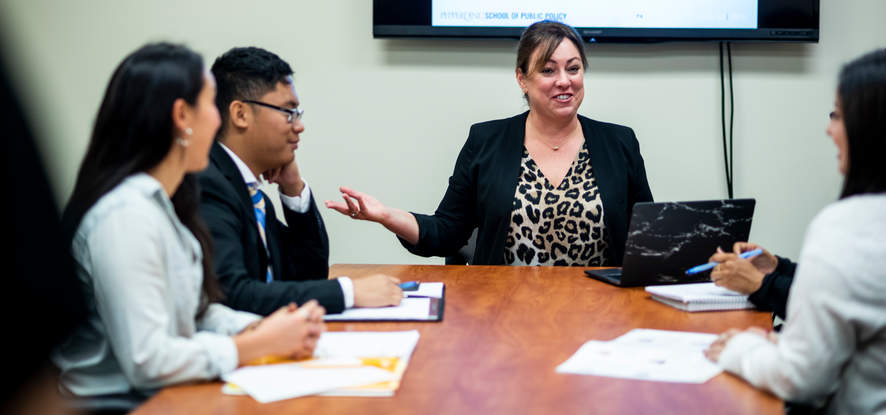 Understanding the significance of your decision to pursue graduate education, Pepperdine maintains the highest standards of transparency and truthfulness in our relationships with students and prospective students. In addition to the details below, a comprehensive set of financial elements related to your time here can be found in the Academic Catalog. Our team stands ready to work with you personally.
Estimated Cost of Attendance for 2023-2024
The Cost of Attendance (COA) is an average numeric amount used to determine your maximum financial aid eligibility for an academic year. The COA consists of standard school expenses (tuition, fees, books) and an estimate of a student's standard living expenses (housing, food, transportation, and other miscellaneous expenses). To determine financial aid packages for the 2023-2024 academic year, COA is valued at $83,120.
Each student's financial needs are different, so the estimated COA may be less depending on the student's circumstances. It is recommended that the student create their own budget to calculate what is needed as long as it does not exceed the COA.
Scholarship Estimates
Funding graduate school education is often accomplished through a combination of internal School of Public Policy scholarships, external scholarships, federal work-study, federal loans, alternative loans, and personal resources.
The Pepperdine School of Public Policy awards a number of scholarships each year. These awards are made available through endowed funds, gifts from supporters and alumni, and allocation of University general funds. The Scholarship Committee awards scholarship based on merit and academic and professional experiences.
| Budget Item | Cost Two Terms/Semesters |
| --- | --- |
| 2023-2024 Tuition (Based on 12/13 units each semester) | $46,140 (cost of two terms/semesters) |
| Housing/Food** | $25,894 |
| Transportation | $2,000 |
| Personal Misc.*** | $7,000 |
| Books/Supplies | $1,000 |
| Wellness Fee | $526 |
| Loan Fees**** | $560 |
| Total Cost of Attendance (Not Including Scholarship) | $83,120 |
Note: Historically, 90 percent of admitted students have received offers of scholarship to supplement tuition costs. Prospective students are encouraged to check the application deadlines for priority scholarship consideration.
There is a $475 one-time workshop fee for the first semester of the first year. For a complete breakdown of estimated costs, please review the Academic Catalog. Tuition charges may be expected to increase on an annual basis as higher education continues to experience cost increases. Historically tuition has increased between two to six percent.
**Includes $766 per month for food x 9 months and is based on on-campus housing cost of $9,500 per semester x 2 which includes utilities, phone, internet, and cable.
***$4,234 Required Health Insurance cost included which will be charged to the student account in the fall semester ($2,117) and spring/summer ($2,117). A student may waive out if they have their own health insurance coverage. SHIP charges will post on August 16, for the fall semester. The final grace period to waive Pepperdine's SHIP runs from August 16 to September 5. The final student health insurance waiver deadline is due on September 5.
****Origination fees for loans.
Tuition charges may be expected to increase on an annual basis as higher education continues to experience cost increases. Historically tuition has increased between two to six percent. Please note, that tuition is based on 12/13 units per term/semester.
School of Public Policy students may be evaluated for increases in the data elements of their cost of attendance items based on unusual circumstances reviewed on a case-by-case basis when supported by documentation. Students are encouraged to contact the SPP Office of Student Services for more information.