Tech Central - Information Technology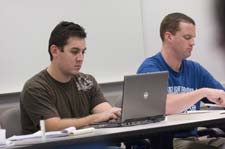 Zoom for Online Classes
While Pepperdine offers traditional in-person classes, resources are available for those rare circumstances where courses are delivered remotely to ensure educational continuity. Students and faculty should familiarize themselves with the following links and materials:
Cellular Phones
Students wishing to use cellular phones on the Malibu campus will find that AT&T™ and Verizon™ enjoy the best cell coverage. Information Technology provides a cellular phone coverage update on the Malibu Campus.
Information Technology
The Information Technology department provides a full range of technology services for University students. Each of the University's campuses features modern classrooms with digital projection and wireless Internet access as well as multiple general-use computer labs that provide wired and wireless connectivity, fee-based black-and-white and color printing, photocopying, and access to a variety of mobile equipment such as projectors and laptops that may be reserved and checked out by University students.
Information Technology staff are available at each of the labs to provide technical assistance. In addition, students can call the IT Help Desk at 310.506.HELP (4357), which provides full telephone technical support 24 hours per day, 7 days per week, and 365 days per year.
Students are required to abide by the Computer and Network Responsible Usage Policy. Details are included in the "Regulations and Legal Notices" section of this catalog and are published on the Information Technology Web site. More information about all of the Information Technology services is available at http://community.pepperdine.edu/it/.
Internet Service
Pepperdine provides Internet access to its students from Windows or Macintosh computers via Ethernet outlets (one per student) in the residence halls or via a wireless network in all nonresidential buildings and in most educational facilities. These connection options allow access to email, library resources, portal information, Web pages, and various academic resources.
For additional information or support, contact Information Technology at 310.506.HELP (4357) or visit the Web site at http://community.pepperdine.edu/it/.
Tech Central
Tech Central is Pepperdine University's main Malibu support area for students, faculty, and staff, offering technology support for central University services. Tech Central is located in the Thornton Administrative Center (TAC) building in room B100 at the basement level below Human Resources.
Hours of operation are Monday through Thursday, 10 a.m. to 7 p.m. and Friday, 10 a.m. to 5 p.m. Tech Central may be contacted at 310.506.4811. International students or students without convenient phone access may request assistance online by entering their network ID and password credentials through the IT Tech Request Form and selecting "Other Services."
Computer supplies such as printer ink cartridges, cables, flash drives, A/V adapters, and security locks are sold in the Malibu campus bookstore as well as online through Pepperdine University's preferred vendors at http://community.pepperdine.edu/techcentral/.