New Student Orientation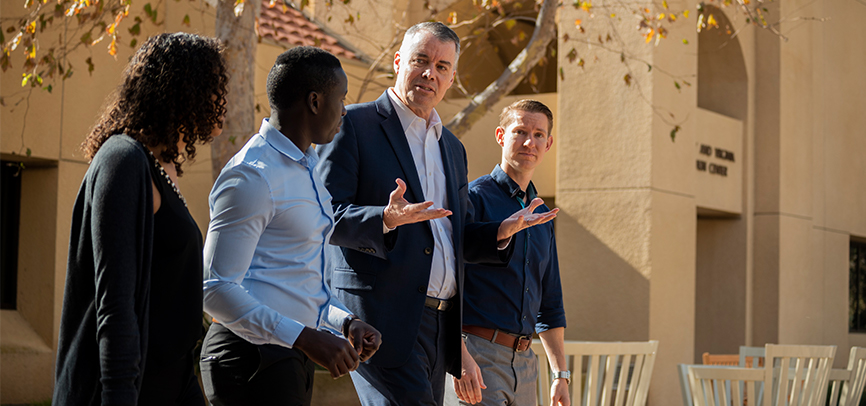 Welcome New SPP First-Year Students!
The Office of Program Services and Admissions is thrilled you are joining us here at the Pepperdine School of Public Policy (SPP)! We are located in the beautiful city of Malibu, California; and this location offers many activities from surfing and hiking to delicious eateries—not to mention breathtaking views of the Pacific Ocean! Our students can attend classes and relax just steps away at the Malibu pier. You have come to the right place to begin your graduate academic journey in pursuit of your Master of Public Policy (MPP) degree!
SPP's New Student Orientation (NSO) provides useful information that will make your transition into student life a breeze! Please take a moment to review this site completely before your arrival, as many items require action before you get here in order to make your transition to Malibu smooth.
We know this is a lot of information—but we want you to be fully prepared. If you still have questions, always feel free to contact the Office of Program Services and Admissions directly at SPPAdmissions@pepperdine.edu or 310.506.7493.

PREPARE FOR VIRTUAL NEW STUDENT ORIENTATION 2020
We look forward to welcoming you in August! Remember: NSO begins the week of Monday, August 10 and will conclude by Thursday, August 13. NSO is mandatory and required for all new School of Public Policy students. Classes start on Monday, August 17, 2020.
August 11-13, 2020
New Student Orientation
(All Incoming Students)
August 17, 2020
First day of class.
(DEADLINE to Submit Official Transcripts)
| Section | Videos |
| --- | --- |
| Introduction to Pepperdine | |
| Previously Recorded Live Zoom Sessions | |
| Policies & Services | |
IMPORTANT REMINDER
Please also begin actively checking your new Pepperdine email address through WaveNet. It is important to note that your Pepperdine e-mail account now serves as the main link of communication between you and the University. You are responsible for reviewing information sent to your email address, so please add this to your daily routine to avoid missing important news and announcements from Pepperdine and SPP.
SPECIAL COVID-19 STATEMENT
Due to the ongoing COVID-19 pandemic, the University continues to follow CDC and local guidance. We encourage you to access Pepperdine's COVID-19 Planning and Preparedness website. This page will be updated regularly, so keep checking back for more details. It is the official source for information on the disease and its impact on our university, including our in-person orientation program.
See you soon!