Student Services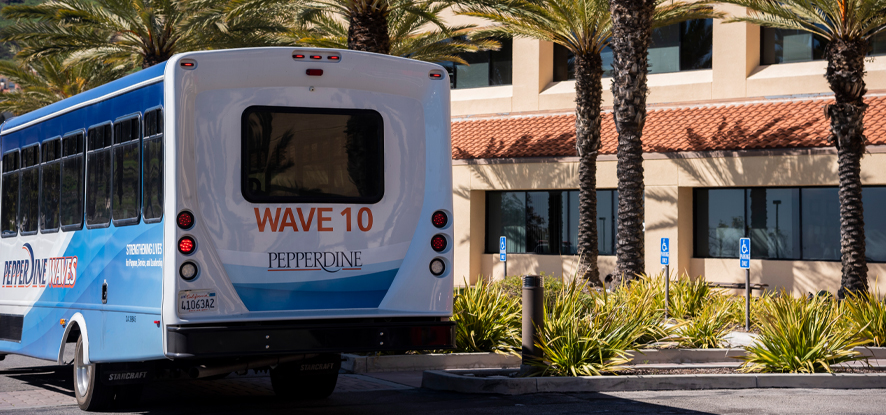 School of Public Policy students may purchase textbooks and materials at Pepperdine's online store. There you can purchase course materials, as well as school and office supplies and Pepperdine-themed apparel and accessories. The bookstore can be contacted at 310.568.5741.
Food and beverages are provided for sale through Sodexho Campus Services in the Margaret M. Rockwell Student Dining Center on Drescher Campus, in the Edward and Jill Di Loreto Dining Room of the School of Law, from the WAVES Cafe or the Oasis Pizza and Deli at the Tyler Campus Center, and from vending machines located throughout the campus. Pepperdine's dining program is designed around an a la carte pricing system using points. Points are accessed using the student's Pepperdine ID card, which acts as a debit card for food. Points can be used in all Sodexho dining locations on campus. Major credit cards also are accepted at the Drescher campus cafeteria.
Central Receiving is part of Mail Services and receives all ground and freight shipments for the University and students living on campus. Students receiving packages via these methods will be sent a notice that will be placed in their mailbox. Packages may be picked up in Mail Services.
Students may ship packages via express mail by taking their packages to Central Receiving located on the Facilities Management and Planning pad.
Graduate students may reside in private housing or in University apartments on campus. In the Drescher Graduate Campus apartments, each resident has his or her own bedroom in a four-bedroom apartment.
Students may mail letters, packages, or express packages or may purchase stamps at the Mail Services resale window. All incoming mail must have a student name and mailbox number included in the address.
The Office of Student Accessibility at Pepperdine University is dedicated to maintaining an environment that guarantees students with disabilities full access to its educational programs, activities, and facilities.
International students registering at Pepperdine University for the first time must report to the Office of International Student Services (OISS) in Malibu and consult with the designated school official for purposes of ensuring compliance with government regulations. The OISS issues the Form I-20, "Certificate of Eligibility for Nonimmigrant (F-1) Student Status," to international students who have been granted admission to Pepperdine University. The OISS provides information seminars and publications on immigration, employment, tax requirements, and other matters related to the maintenance of legal nonimmigrant status in the United States. Health and accident insurance coverage is mandatory for international students. For more information, call 310.506.4246.
Parking on the Malibu Campus is free, but parking permits are required and it is mandatory to display a valid permit at all times when on campus. Parking permits can be obtained online. Students should visit Pepperdine University's Department of Public Safety Web site to register their vehicles. All vehicles must be registered through the Department of Public Safety. The California Vehicle Code, Section 21113(a) empowers University Regents to establish parking and traffic regulations on University property. Unless otherwise provided for by these regulations, all of the provisions of the California Vehicle Code (CVC) relating to traffic upon the highways shall be applicable on Pepperdine University property. Pepperdine University parking and traffic regulations are adopted by the Board of Regents and are available for review in the Office of the President and the Department of Public Safety.
The University provides free on-campus shuttle service.
Blue Route
The Blue Route circles the campus clockwise and leaves the main lot every 15 minutes beginning at 8 a.m. and ending at 6:30 p.m.

Orange Route
The Orange Route circles the campus counter-clockwise. Two shuttles serve this route, leaving the main lot approximately every 10 minutes beginning at 8 a.m. and ending at 3:30 p.m. and 10:30 p.m.
The Office of Student Accounts is committed to providing unparalleled, quality service to our constituents, balancing the needs of the students and their families with the fiduciary duties we have to the University, minimizing the bureaucratic maze while upholding accountability for all those involved in the education process at Pepperdine.
Pepperdine University in conjunction with Corniche Travel offers a complete travel department located in the Print shop in the Facilities Management and Planning (FM&P) Pad. The travel department offers air, hotel, ground transportation, group and meeting planning, and exclusive value-added vacation specials. Hours of operation are 8 a.m. to 5 p.m., Monday through Friday. Any registered student may use the service and make travel arrangements in person, by telephone at 310.506.4562, or by email at PepperdineTravel@corniche.com.
Students are able to use their student identification cards for the purchase of photocopies or the purchase of food and beverages from the Drescher Campus Cafeteria, Law School Grill, Tyler Campus Center Cafeteria, and Gourmet Bean located in the Howard A. White Center. There is no charge for a student's first identification card. The fee to replace lost or stolen identification cards is $15. Students may get a replacement identification card at Tech Central. The replacement fee can be charged to the student account.
Students are the heart of the enterprise. We want you to be successful academically and we want you to be well. Our hope is that you thrive at Pepperdine! To ensure your success, the University has implemented a wellness fee for all Pepperdine students that provides you with access to comprehensive wellness resources. We provide medical, mental health, fitness and recreation, resilience, Title IX, and Student Care Team resources to help you maintain your wellness journey.