Diversity and Belonging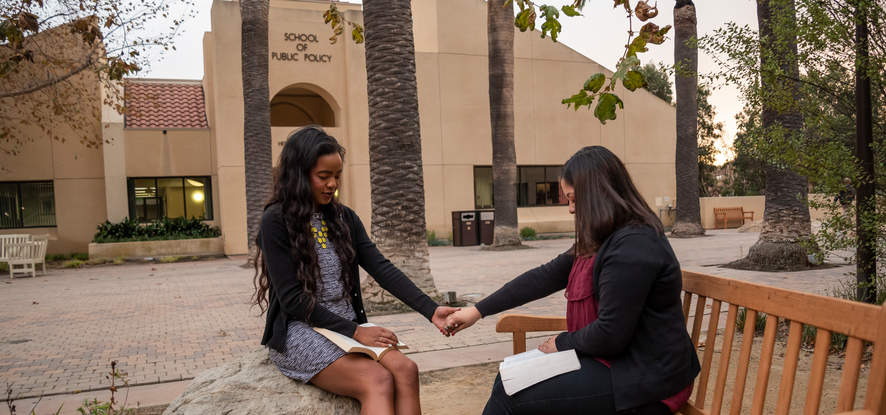 The Pepperdine School of Public Policy (SPP) and SPP Diversity Committee provides a forum for students, faculty, staff, and alumni to engage in events, professional development, and mentorship opportunities that aim to build a diverse community founded on a set of core values that strive toward academic excellence and a shared sense of belonging with the understanding as noted in the Pepperdine University Diversity Statement.


School of Public Policy's Committee Members
The SPP Diversity Committee consists of five members from the SPP community, which includes (at minimum):
2 Full time faculty
1 Alumnus
1 Staff member
1 Student (2nd year)
All committee members serve a term of one academic year with an option to renew. The two full time faculty members will serve as chair and vice chair.
The 2020-2021 committee chair is Dr. Luisa Blanco, professor of public policy, and the vice chair is Dr. Michael Shires, associate dean for strategy and special projects, director of assessment and associate professor of public policy.
Students interested in becoming members of the SPP Diversity Committee will be asked to submit a statement of interest that will be reviewed by the chair and vice chair. The alumni member will be outreached by the chair or vice chair at the beginning of each academic year.


Meetings
The meeting will be held via Zoom, for the 2020-2021 academic year. The chair or vice-chair will make a determination if in-person meetings will take place for the Fall 2021 term at the conclusion of the Spring 2021 semester. The committee will host 1 - 2 meetings per semester.


Committee Goals
The School of Public Policy diversity committee will:
focus on executing at least one (1) diversity event per semester
strive to create a forum for diversity related issues throughout the University
collaborate with the UDC on programming
develop a mentorship/ resource program


2021 Committee Members
Jamil Barnett (MPP '17)
Luisa Blanco, Professor of Public Policy, Chair
Melissa Espinoza, Assistant Director of Engagement and Programs
Tyson Rhodes, Second-Year Student
Michael Shires, Associate Dean for Strategy and Special Projects, Director of Assessment, and Associate Professor of Public Policy



Events
Date
Title
Speakers
April 12, 2021
Impact of Great Recession Bank Failures on the Use of Financial Services Among Racial/Ethnic and Income Groups

Presenter:
Dr. Salvador Contreras, Associate Professor of Economics and Director of the Center for Border Economic Studies at the University of Texas Rio Grande Valley

Moderator:
Dr. Luisa Blanco, Professor of Public Policy and Chair of SPP Diversity Committee

March 23, 2021
Workshop on the Impact of COVID-19 on Latinas in California and Policy Solutions

Panelists:
Vanessa Cruz, a first-year student
Deja Frederick, a second-year student
Susie Herrera, a second-year student

Moderator:
Dr. Luisa Blanco, Professor of Public Policy and chair of SPP Diversity Committee

February 22, 2021
Racially Diverse Leaders for Racially Diverse Cities

Panelist:
Angela Averiett, Interim Deputy Chief of Support Services Bureau at the BART Police Department
Troy Brown, City Manager of the City of Moorpark
Artie Fields, City Manager, City of Inglewood (Davenport Institute Advisory Board)
Ingrid Hardy, Assistant City Manager at City of Thousand Oaks

Moderator:
Pete Peterson, Dean of Pepperdine School of Public Policy

Weclome Speaker:
Dr. Luisa Blanco, Professor of Public Policy at Pepperdine School of Public Policy and SPP Diversity Committee Chair