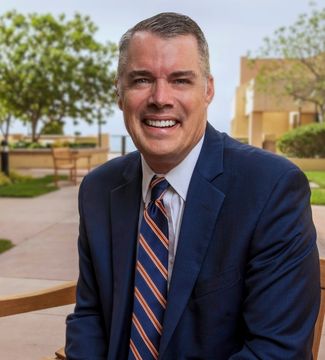 Pete Peterson
Dean
Braun Family Dean's Chair
Senior Fellow at Davenport Institute
School of Public Policy
Biography
Pete Peterson is a leading national speaker and writer on issues related to civic participation, and the use of technology to make government more responsive and transparent. He was the first executive director of the bi-partisan organization, Common Sense California, which in 2010 joined with the Davenport Institute at the School of Public Policy to become the Davenport Institute for Public Engagement and Civic Leadership.
Peterson has co-created and currently co-facilitates the training seminar, "Public Engagement: The Vital Leadership Skill in Difficult Times" a program that has been attended by over 4,500 municipal officials, and he also helped to develop the program, "Leading Smart Communities," which explores the ways in which technology is changing local government processes. Peterson has served as the chair of the Governance Committee for the Public Interest Technology-University Network.
In 2017, SPP launched a new initiative titled the "American Project: On the Future of Conservatism", which is co-directed by Dean Peterson and Rich Tafel. The "Project" is a unique effort to gather scholars and activists from a variety points on the conservative spectrum to deliberate over, write about, and discuss the future of the conservative movement. In 2022, through a $10 million endowment gift, the "Project" transitioned into the academic center, Meese Institute for Liberty and the American Project.
Peterson writes widely on public engagement for a variety major news outlets including the Wall Street Journal, Los Angeles Times, and San Francisco Chronicle, as well as numerous blogs. He contributed the chapter, "Place As Pragmatic Policy" to the edited volume, Why Place Matters: Geography, Identity, and Civic Life in Modern America (New Atlantis Books, 2014), and the chapter "Do-It Ourselves Citizenship" in the volume, Localism in the Mass Age (Wipf & Stock, 2018).
Peterson has been a public affairs fellow at The Hoover Institution, and he serves on the Leadership Council of the bipartisan nonprofit, California Forward, on the National Advisory Council for the Ashbrook Center, as well as on the Scholars Council for Braver Angels. Peterson has served as a member of the Commission on the Practice of Democratic Citizenship, which is organized by the American Academy of Arts & Sciences, as well as the nonprofit, Sophos Africa.
Peterson was the Republican candidate for California Secretary of State in 2014.
Panels and Presentations (2018-Present):
Panelist, "Building Connected Communities" conference / Hosted by the Human Flourishing Program (Harvard) and the Einhorn Collaborative (Cambridge, MA, OCT 13, 2023)
Moderator, "Africa in Context: Aid, Entrepreneurship, and US-Ethiopia Relations" / Hosted by King's College (NYC) and SOPHOS-Africa (New York City, FEB 18, 2023)
Panelist: "Our Common Purpose Higher Ed Roundtable" / Hosted by the American Academy of Arts & Sciences – WEBINAR (June 29, 2022)
Moderator: "Inside Modern-Day Slavery with Siddharth Kara" / Hosted by the Los Angeles World Affairs Council (West Los Angeles, June 22, 2022)
Moderator: "Internet: Challenge or Opportunity" / Free Speech 2022 Conference. Hosted by Pepperdine SPP (Malibu, May 23, 2022)
Speaker: "Thinking Historically in Challenging Times" / Hosted by Young America's Foundation (Santa Barbara, CA, December 3, 2021)
Panelist: "Bridging a Polarized Politics: Where Do We Go from Here?" / Hosted by USC Gould School of Law and LACBA – WEBINAR (DEC 1, 2021)
Speaker: "Can the Conversation Hold" / Hosted by the Philadelphia Society (Fort Worth, TX, OCT 22, 2021)
Panelist: "Voting Rights and Wrongs" / Hosted by the Dornsife Center for the Political Future at USC – WEBINAR (OCT 12, 2021)
Panelist: "The Calling to Servant Leadership" (with Os Guinness) / Hosted by Faith & Law (Washington, DC, SEP 10, 2021)
Panelist: "Building Public Trust in Government Institutions" / Hosted by The Council of State Governments – WEBINAR (JUN 25, 2021)
Panelist, "Public Governance and Civic Engagement" / Hosted by the National Academy of Public Administration and American Academy of Arts & Sciences - WEBINAR (May 12, 2021)
Moderator: "Meeting of the Mayors: San Diego's Kevin Faulconer and Dallas' Eric Johnson" / Hosted by Pepperdine SPP – WEBINAR (APR 1, 2021)
Moderator: "Comparing Data Dashboards" / Co-hosted by Pepperdine SPP, Legatum Institute and California Forward – WEBINAR (MAR 3, 2021)
Moderator: "Racially Diverse Leaders for Racially Diverse Cities" / Hosted by Pepperdine SPP – WEBINAR (FEB 22, 2021)
Panelist: "The Public's Role in Policymaking" / Hosted by Harvey Mudd College – WEBINAR (FEB 1, 2021)
Moderator, "Getting History Right" / Hosted by the National Steinbeck Center - WEBINAR (OCT 22, 2020)
Moderator, "Race & Disaster Response" / FEMA Region 9's "Readiness Day" WEBINAR (OCT 14, 2020)
Moderator, "Why Should Policy Leaders (and Policy Schools) Care about Loneliness?" / Hosted by Faith & Law - WEBINAR (OCT 2, 2020)
Panelist, "America's Public Forum: An American Civic Renaissance?" / Hosted by Braver Angels - WEBINAR (AUG 26, 2020)
Moderator, "Smart Cities for Dummies w/ Dr. Jonathan Reichental" / Hosted by SPP - WEBINAR (AUG 20 & 27, 2020)
Moderator, "When Policy Is Personal: Race & Public Safety" / Hosted by SPP - WEBINAR (JUN 25, 2020)
Panelist, "Social & Economic Wellbeing in California in Challenging Times" / Hosted by Legatum Institute - WEBINAR (JUN 24, 2020)
Moderator, "Rebuilding Better After COVID-19" / Hosted by C-Suite Quarterly - WEBINAR (JUN 3, 2020)
Moderator, "Coronavirus and Truth Decay" / Hosted by LA World Affairs Council - WEBINAR (MAY 29, 2020)
Panelist, "Vocation and Calling in a Post-Pandemic World" / Hosted by The Trinity Forum - WEBINAR (MAY 15, 2020)
Moderator, "The Role of Religion in Politics and the Role of Politics in Religion" / Hosted by SPP (Pepperdine, FEB 12, 2020)
Moderator, "The Lost History of Western Civilization" / "The Lost History of Western Civilization Conference" (Pepperdine, JAN 31, 2020)
Panelist: "The Threats to Free Speech on College Campuses" / 2019 State Policy Network's Annual Conference (Colorado Springs/OCT 31, 2019)
Speaker: "Why We Should Care about Loneliness" / 2019 TFAS Board Retreat (Colorado Springs/OCT 26, 2019)
Panelist: "Introducing the PIT-UN Network: Teaching GovTech in Policy Schools" / 2019 NASPAA Annual Conference (Los Angeles/OCT 17, 2019)
Panelist: "Introducing the PIT-UN Network: Teaching GovTech in Policy Schools" / 2019 NASPAA Annual Conference (Los Angeles/OCT 17, 2019)
Moderator: "Freedom to Speak: Threats to Campus Speech from the Administrative State" / SPP's "Give Me Liberty or Give Me Permission? Conference" (Costa Mesa, CA/OCT 16, 2019)
Moderator: "America's Loneliness Problem and the Challenge to Social Capital" / American Project's "Social Capital Summit" (Washington, DC/JUN 4, 2019)
Panelist: "The PIT-UN Network: Encouraging GovTech Education in Academia" / Code for America Conference (Oakland/MAY 29, 2019)
Interviewer: "How do we keep a sense of place as we grow? (with Rick Cole) / SPP's "A Home in California Conference" (Pepperdine/MAR 26, 2019)
Moderator: "Future of the Conservative Movement – A California View" / CPAC (Pepperdine/MAR 2, 2019)
Moderator: "GSE Reform: Will 2019 Finally Mean an End to the Conservatorship?" / SPP's "California to Capitol Hill Conversations" (Pepperdine-DC/FEB 19, 2019)
Speaker: "Viewpoint Diversity in Higher Education" / Liberty Forum of Silicon Valley (Mountain View, CA/JAN 8, 2019)
Panelist: "Beyond Polarization: Finding a Viable Center" / Niskanen Center's "The Center Right After Trump" Conference (Washington, DC/December 11, 2018)
Interview: "California politics and President George H.W. Bush"/ Townhall Review, Hugh Hewitt National Radio Show (Los Angeles/December 5, 2018) Listen
Presenter: "Public Engagement: The 21st Century Leadership Skill" / ELGL's "Pop Up Conference – Los Angeles" (Los Angeles/October 12, 2018)
Moderator: "Cross Sector Leadership in Crisis Management" / SPP's "Conference on Cross Sector Leadership" (Pepperdine/October 1, 2018)
Moderator: "The Future of American Retirement" / SPP's "California to Capitol Hill Conversations" (Pepperdine-DC/September 25, 2018)
Panelist: "Mapping the Future of California: Where and How Will Californians Live?" / California Association of Realtors' Real Estate Summit (Century City/September 6, 2018)
Moderator: "Finding a Public Policy Platform for a Conservatism of Connection" / SPP's "Toward a Conservatism of Connection" Conference (Pepperdine/June 29, 2018)
Moderator: "Viewpoint Diversity in American Higher Education" / SPP's "Toward a Conservatism of Connection" Conference (Pepperdine/June 28, 2018)
Presenter: "Public Engagement for Elected Officials" / California Local Elected Officials (CLEO) event (Pepperdine/May 12, 2018)
Presenter: "Public Engagement: A 21st Century Leadership Skill" / 2018 Community Forum" / City of La Quinta (La Quinta, CA/JAN 13, 2018)
Education
MPP, Pepperdine University, 2007
BA, History, George Washington University, 1989
Selected Works
"It's Time for a 'Conservatism of Connection'" RealClear Policy, November 9, 2018
"How the Top Two Primary Can Strengthen Parties and California Voters" California Forward, June 1, 2018
"Where Bernie-nomics

Goes to Die." RealClear Policy, November 22, 2016

"An Inverse Prop 8 for California?" RealClear Policy, October 18, 2016
"The Greatest Public Leadership Transition in American History" Real Clear Policy, July 1, 2016
"Trump, Sanders, and the Populist Anti-Policy Surge" Wall Street Journal, May 19, 2016
"DMV: Department of Motor . . . Voting?" Fox and Hounds Daily (blog), September 24, 2015
"The Alinsky Way of Governing". Wall Street Journal, April 9, 2015
"Top-Two Fracturing" City Journal California (blog), February 27, 2015
"A Party for Citizens and Customers" Fox and Hounds Daily (blog), February 2, 2015
"Republicans Need Their Own Rhetoric of Reliance" Los Angeles Times, January 24, 2015
Areas of Expertise
National Politics
California Policy and Politics
Viewpoint Diversity in Academia
Smart Cities
Civic Engagement
Topics
Civic Participation
Private/Civic/Public Sector Relationships
Technology in Government
Free Speech on Campus