Edwin Meese III Institute for Liberty and the American Project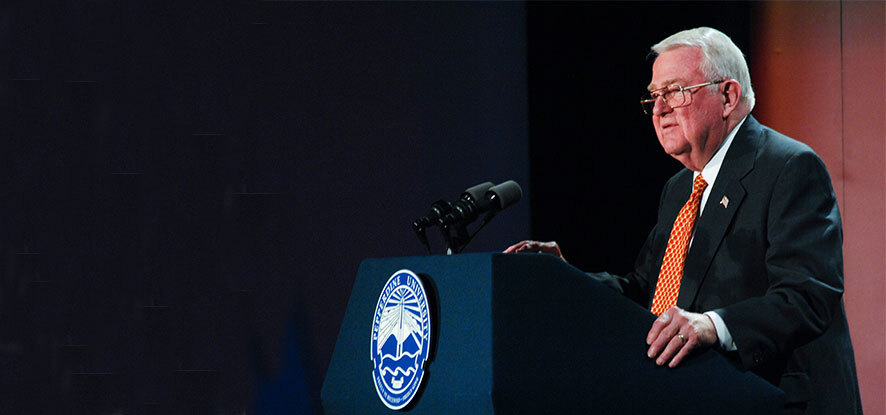 A man of faith. A Californian. An American patriot with a life committed to public service.
Edwin Meese III was born in Oakland, California on December 2, 1931. Growing up in the Golden State, he went East for college to attend Yale University but returned for his law degree at the University of California, Berkeley. At Yale, Meese enrolled in Army Reserve Officers' Training Corp (ROTC), earning the rank of Second Lieutenant upon graduation, serving for two years at Fort Sill near Lawton, Oklahoma. Completing his active duty commitment in 1956, he would go on to serve in the United States Army Reserve until 1984.
Meese began his professional career in public service more than a half-century ago, serving as deputy district attorney for Alameda County, California in the early 1960s, but it was in 1967 when he joined then-Governor Ronald Reagan's staff as legal affairs secretary that he began the journey to national prominence and influence. In 1969 he was asked to serve as Reagan's chief of staff for what would be the next (and last) five years of Reagan's governorship.
Meese would then serve in this same role during Reagan's 1980 presidential campaign, going on to lead the transition team upon Reagan's victory. Through most of the first term of the Reagan Presidency, Meese served as Counselor to the President, but on January 23, 1984, Reagan nominated Meese to become the nation's 75th Attorney General. Meese served in this position until Reagan's last year in office (1988).
Following his time in the Reagan Administration, Meese continued to engage with influential public policy debates through a number of institutions—particularly the Heritage Foundation, where he remains the Ronald Reagan Distinguished Fellow Emeritus, and the Hoover Institution, where he was a distinguished visiting fellow.
Meese has written widely on issues ranging from his time with President Reagan to Constitutional questions on religious liberty. His books (authored and co-authored) include Leadership, Ethics and Policing (2004); Making America Safer (1997); With Reagan: The Inside Story; and The Heritage Guide to the Constitution (2005).
Married to Ursula for more than 60 years, Meese received the Presidential Medal of Freedom in 2019.
About the Institute
The first program of its kind at a major graduate policy school, the new Edwin Meese III Institute for Liberty and the American Project serves as the new academic home for scholarship, teaching, and events focused on connecting America's founding principles to today's national policy challenges. Organizationally, the new Institute stands as the foundation of the school's American Policy & Politics curriculum track, formed to prepare public leaders in domestic policy for careers in Washington, DC, and America's top policy research institutions.
The Institute builds upon the work of the school's "American Project," which launched in 2017 to explore the future of a more communitarian approach to national politics and policy. Through events and commissioned essays, and advised by a network of leading academics and policymakers, the project has made a compelling case for a flourishing American political culture based on economic opportunity, religious liberty, self-governance, and devolved governance. These programs will continue in the new Meese Institute.
Endowed with a $10 million gift from Pepperdine alumni Chandra ('99, JD '02) and Adam ('99) Melton, the Meese Institute will be led by a leading scholar in American history and politics who will assume the Melton Chair at the helm. A member of the School of Public Policy Board of Advisors, Chandra is dedicated to preparing students for leadership opportunities in government agencies at the local, state, and federal levels. The Melton Chair will be not only a teaching position for our graduate policy students, but also the public face of the institute, organizing events and engaging through the media on current political and policy debates from our unique perspective. We anticipate a highly competitive national search for this position.
In this 25th anniversary year, the opening of the Meese Institute marks a major commitment to furthering the work of the School of Public Policy to both prepare leaders for America and to engage in today's policy debates.