Student Organizations and Journal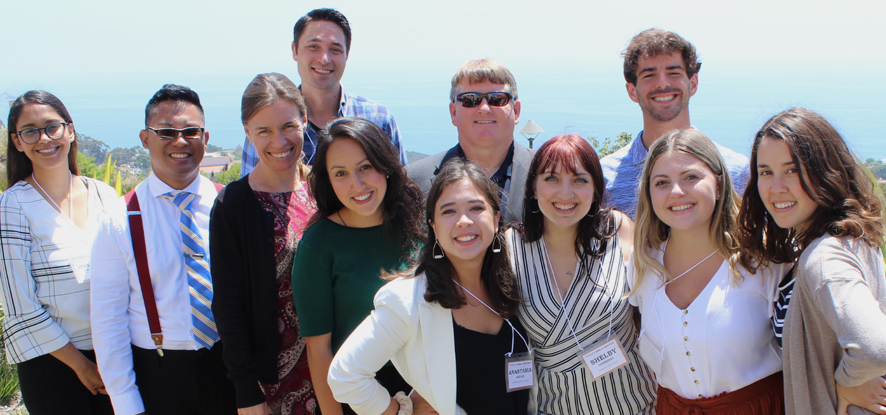 Association of Environmental Professionals (AEP)
The Association of Environmental Professionals (AEP) will create a welcoming space for those interested in environmental policy. Members will have the opportunity to learn and network with members of the National and California Associations of Environmental Professionals (NAEP and CAEP). AEP will also work to promote sustainability on the Pepperdine Campus.
Christianity and Public Policy (CPP)
Christianity and Public Policy (CPP) is a student organization dedicated to the practical application of the Christian faith in the public square through deliberation, examination of Biblical and other literary text, community involvement, and fellowship.
Conservatives of Public Policy (CoPP)
The Conservatives of Public Policy (CoPP) organization provide a community amongst fellow conservatives in the School of Public Policy, as well as provide an outlet to those who may want to learn more about conservativism through experiencing a community of conservatives. CoPP works with organizations to discuss and influence conservative policy making. CoPP falls directly in line with Viewpoint Diversity at the School of Public Policy. CPP is meant to create a space for conservatives to dialogue with one another, network, and create relationships both professionally and personally that will last a lifetime.
International City/County Management Association (ICMA)

In collaboration with the School of Public Policy's Davenport Institute for Public Leadership and Civic Engagement, Pepperdine is host to a student chapter of the International City/County Management Association (ICMA). Pepperdine's program is the second such program in Southern California, where student members are offered a number of resources including: access to ICMA online, which includes research and job postings, free registration for the ICMA annual conference, guidance from Rod Gould, city manager of Santa Monica, who serves as a professional mentor for the chapter, and on-campus speaking engagements with those who have careers in local government. ICMA is the professional and educational association for appointed local government administrators throughout the world, making this an excellent opportunity to build a network of contacts with local government administrators both in California and across the country. The application process for the ICMA Student Chapter at the School of Public Policy opens in both January and September.
The Pepperdine Policy Review (PPR) is a student-run journal that showcases the best scholarly work of School of Public Policy students at Pepperdine University. It features articles, commentaries, opinion pieces, and book reviews that address a variety of issues from health care and national security to political philosophy. The mission of the Pepperdine Policy Review is to publish the best scholarly research, innovative policy solutions, and insightful commentary that School of Public Policy students have to offer. This journal seeks to inform policy makers, academic researchers, and the general public of ideas that will help transform public policy debate in the U.S. and abroad. All articles are thoroughly reviewed by student editors and must meet rigorous academic standards.
Pi Alpha Alpha, the National Honor Society of Public Affairs and Administration
Pi Alpha Alpha encourages and recognizes outstanding scholarship and accomplishment in public policy, to promote the advancement of education and practice in the art and science of public policy, and to foster integrity, professionalism and creative performance in the conduct of governmental and related public service activities. Membership identifies those with the highest performance levels in educational programs preparing them for public service careers. The application process for Pi Alpha Alpha begins in both September and January. View Pi Alpha Alpha membership information.
Politics in Public Policy (PiPP)
Politics in Public Policy (PiPP) provides a forum to develop graduate students' understanding of how politics and political climates play a role in shaping public policy. It is founded on the principle that quality public policy begins with—and depends on—constructive political discussion. The goal of this organization is to facilitate a diverse range of conversations through student-to-student dialogue. This organization seeks to honor the School of Public Policy's firm commitment to ideological diversity, made possible by exposing students to ideologically diverse perspectives and viewpoints relevant to present-day issues and enduring policy debates.
Women in Public Policy (WPP)
Women in Public Policy (WPP) is a student organization established to promote the development of women in the academic and professional arenas with an emphasis on ethics and leadership. Through a blend of guest speakers, community involvement, social activities, and seminars, WPP supports and encourages women as they tackle unique challenges in public policy. While ethnically and politically diverse, these women share a commitment to use innovative solutions to address complex national and global issues.