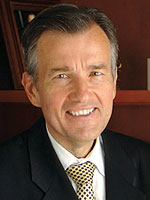 Douglas Kmiec
Caruso Family Chair in Constitutional Law
Ambassador of the United States (Ret.)
School of Public Policy
Biography
An American legal scholar, diplomat, and author, former Ambassador Douglas W. Kmiec holds the Caruso Family Chair. He has focused the chair toward constitutional and human rights law. The Ambassador's work has won much acclaim, including prestigious fellowship and honorary degree. Ambassador Kmiec is a popular speaker at commencements and other university wide conclaves.
Ambassador Kmiec came to this position after serving several years as dean and St. Thomas More Professor of Law at The Catholic University of America in Washington, D.C., and for nearly two decades, on the law faculty at the University of Notre Dame. As dean at Catholic University, Ambassador Kmiec did what many said would be impossible; he greatly increased academic quality and student selectivity at the same time he deepened the school's religious commitment. During his tenure, the law school moved into the top one hundred law schools in the U.S. News ranking from tier three. At Notre Dame, he was director of Notre Dame's Center on Law & Government, and the founder of its Journal of Law, Ethics & Public Policy. Beyond the university setting, Kmiec served Presidents Ronald Reagan and George Bush during 1985-89 as constitutional legal counsel (Assistant and Deputy Assistant Attorney General, Office of Legal Counsel, U.S. Department of Justice). He was nominated for foreign service by President Barack Obama and unanimously confirmed by the Senate.
As Ambassador to the Republic of Malta (2009-11 while on university leave), Ambassador Kmiec is credited with the completion of a new $125.5 million embassy compound now playing an enhanced strategic role in the Mediterranean strengthening both U.S. and E.U. efforts against the proliferation of nuclear weapons; human trafficking; drug smuggling and piracy. Ambassador Kmiec had a special assignment from President Obama to promote inter-faith dialogue as a means of achieving mutual understanding derived from mutual respect. His employ of kindness as the central element of conflict resolution and his devotion to understanding public policy through the eyes of faith gave him wide approval among the Maltese people. The Ambassador was also instrumental in the resettlement of close to eight hundred individual migrants and families seeking freedom from the violence and deprivation pervasive in sub-Saharan Africa. When an uprising required Embassy-Tripoli to close and its personnel to be evacuated, Ambassador Kmiec deployed a rented catamaran to safely return several hundred American citizens and other foreign nationals to their homes.
A wide-ranging writer and engaging speaker, Ambassador Kmiec has had a syndicated column for the Catholic News Service, and for several years wrote a regular column in the Chicago Tribune. He is also a frequent contributor to the pages of the Los Angeles Times, Wall Street Journal, and other periodicals. His book on Catholics and Obama (Can a Catholic Support Him?) rocketed to number 1 on its Amazon listing after receiving the "Colbert bump." He is the co-author (with legal historian Stephen Presser of Northwestern) of three books on the Constitution--The American Constitutional Order; Individual Rights and the American Constitution and The History, Structure and Philosophy of the American Constitution. Another recent book, Cease-Fire on the Family (Crisis Books/Notre Dame) attracted scholarly and popular acclaim for proposing realistic ways for families to "end the culture war" by renewing personal virtue and civic responsibility within itself. He has also written The Attorney General's Lawyer (Praeger 1992), and several respected legal treatises.
Ambassador Kmiec's scholarly research spans legal and non-legal subjects, from the Constitution and the federal system, to international human rights to land use and the organization of America society. He is a frequent guest on national news programs, such as Nightline, the Newshour, and NPR's Talk of the Nation, analyzing constitutional questions.
A White House Fellow (1982-83), Ambassador Kmiec is one of a few individuals who has received the Distinguished Service Award from two cabinet departments-the Department of Justice in 1987 and Housing and Urban Development in 1983. In 1988, he was awarded the Edmund J. Randolph Award by the attorney general. He has lectured on the U.S. Constitution in Asia as a Fulbright Distinguished Scholar.
An honors graduate of Northwestern, Ambassador Kmiec received his law degree from the University of Southern California, where he served on the Law Review and received the Legion Lex Commencement Prize for Legal Writing. He is a member of the bar of the U.S. Supreme Court and the state bars of Illinois and California.
Education
J.D., University of Southern California, 1976
B.A., Northwestern University, 1973, with honors
Topics
Constitutional Law
Jurisprudence
Law and Morality