Licata Lecture Series

"First Freedom:
James Madison and the Future of Religious Liberty"
Dr. Jeffrey Sikkenga
Spring 2018 William E. Simon Distinguished Visiting Professor
School of Public Policy, Pepperdine University


Tuesday, February 27, 2018
6 pm

Reception to follow
Wilburn Auditorium
Drescher Graduate Campus, Pepperdine University
Malibu, California
For more information, please contact Melissa Espinoza at 310.506.7490
James Madison believed that religious freedom is the first freedom – the foundation of all others. Madison once declared to his fellow Americans that "above all, it is the particular glory of this country, to have secured the rights of conscience which in other nations are least understood or most strangely violated."
But what did Madison mean by the "rights of conscience"? And how can his thoughts on religious liberty help us to understand an issue that has reemerged as a serious challenge for public policy at all levels of government in America and in many other countries around the world?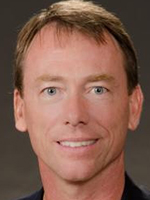 Dr. Jeffrey Sikkenga is currently serving as the Spring 2018 William E. Simon Distinguished Visiting Professor at the Pepperdine School of Public Policy. He is professor of political science and co-director of the Ashbrook Scholar Program at Ashland University, adjunct fellow of the John M. Ashbrook Center and senior fellow in the Program on Constitutionalism and Democracy at the University of Virginia. He teaches undergraduate and graduate courses in political thought, the American Founding and American constitutional law. In Fall 2017 Sikkenga served as a Visiting Scholar at Stanford University's Hoover Institution.
The Charles and Rosemary Licata Lecture Series was established through an endowment for the School of Public Policy by benefactors Charles and Rosemary Licata, the Licata Lecture Series unites students, alumni, and community leaders with leading academics and practitioners shaping policy matters in the new century.