Events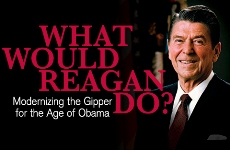 "What Would Reagan Do? Modernizing the Gipper for the Age of Obama"


Steven F. Hayward
Spring 2013 William E. Simon Distinguished Visiting Professor

Tuesday, March 19, 2013
James R. Wilburn Auditorium
Pepperdine University
Malibu, California
1 p.m.
Ronald Reagan remains the beau ideal of a statesman for conservatives. How might Reagan, who was skillful at adjusting his perspectives and arguments to fit changing circumstances, think and talk about the current political scene? And what basic and underlying principles and approaches that we observe in Reagan's record can be emulated today?
Steven F. Hayward is the Spring 2013 William E. Simon Distinguished Visiting Professor at the Pepperdine University School of Public Policy and the author of The Age of Reagan, a highly-regarded, two-volume narrative history of Ronald Reagan and his effect on American political life. For the last decade Hayward was the F. K. Weyerhaeuser Fellow in Law and Economics at the American Enterprise Institute and a Senior Fellow at the Pacific Research Institute. He writes frequently on such topics as environmentalism, law, economics, and public policy for various national publications. Amoung many other published books, he is the author of the Index of Leading Environmental Indicators, published in 14 editions and its successor, the Almanac of Environmental Trends. Hayward is currently teaching American Democratic Culture: The Nature of Presidential Leadership during his semester at Pepperdine University.