School of Public Policy Celebrates 2013 Commencement
The School of Public Policy held its graduation ceremony on Friday, April 19, 2013, at 10:30 a.m., in the Firestone Fieldhouse on the Malibu campus. Karen Elliott House, former publisher of the Wall Street Journal, received the honorary Doctor of Laws degree. Jeffrey Jones (MPP '02) was the recipient of the 2013 Distinguished Alumnus Award.

View graduate and visitor information.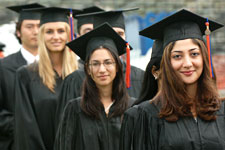 Karen Elliott House is an Adjunct Senior Fellow at the Belfer Center for Science and International Affairs at the Kennedy School of Government at Harvard University and author of On Saudi Arabia: Its People, Past, Religion, Fault Lines—and Future. She previously served as the publisher of the Wall Street Journal from 2002 until her retirement in 2006. She also held various roles as a reporter, editor, and executive throughout a 32-year career at Dow Jones & Company, most recently as senior vice president and a member of the company's executive committee.

During her career at the Wall Street Journal, House served as foreign editor, diplomatic correspondent, and energy correspondent. Her journalism awards include a Pulitzer Prize for international reporting for coverage of the Middle East, two Overseas Press Club awards for coverage of the Middle East and of Islam, and the Edwin M. Hood Award for Excellence in Diplomatic Reporting for a series on Saudi Arabia. In both her news and business roles, House interviewed world leaders including Saddam Hussein, Lee Kuan Yew, Vladimir Putin, Margaret Thatcher, Richard Nixon, George H. W. Bush, and Yasser Arafat, among many others.

House serves on multiple nonprofit boards, including the RAND Corporation and the Trilateral Commission, and has served on the boards of the Council on Foreign Relations, the Asia Society, and the German-American Council. She also served on the board of Boston University and is a member of the advisory board of the College of Communication at the University of Texas at Austin.

House received her bachelor's degree from the University of Texas at Austin and has studied and taught at Harvard University's Institute of Politics. She holds honorary degrees from Boston University and Lafayette College and is a Fellow of the American Academy of Arts and Sciences. She delivered the Charles and Rosemary Licata Lecture at the School of Public Policy in February 2013. House resides with her husband, Peter R. Kann, and their four children in Princeton, New Jersey.
Jeffrey M. Jones (MPP '02) is assistant director and Research Fellow at Stanford University's renowned think tank the Hoover Institution, which is dedicated to the collection, generation, and dissemination of ideas in support of freedom, private enterprise, and representative government. Jones' research centers on issues of poverty and welfare. His administrative roles touch broadly on operations, communications, outreach, and scholarship.

Among his current projects, Jones is overseeing the planning, construction, and launch of the institution's new Washington, D.C., office. In addition, he is the internal project manager for Hoover's fourth building on the Stanford campus, a 50,000-square-foot conference center and office building, scheduled to break ground in 2015.

Jones is responsible for development and oversight of the Hoover Institution Press, which publishes 12 to 15 books per year. He also facilitates the Leadership Forum program, which sponsors roundtables and conferences that engage political leaders at the local, state, national, and international levels.

Prior to his work at the Hoover Institution, Jones held positions at various social welfare organizations, from serving as a federal VISTA volunteer working with the homeless in Rockford, Illinois, to his executive directorship of a nonprofit jobs agency catering to disadvantaged populations—veterans, welfare recipients, teenage mothers, the homeless, and the underemployed. He also is engaged in a number of Christian philanthropic activities, including service as a group discussion leader for Bible Study Fellowship.

Jones received his bachelor's degree in political science from Wheaton College and in 2002 received his master of public policy from the Pepperdine University School of Public Policy, where he currently serves as a member of the Board of Visitors. Jones resides with his wife, Lori, and their four children in Menlo Park, California.