Davenport Institute Conferences
As a university-based policy institute, the Davenport Institute has access to top scholars working on issues relating to public engagement, technology in government, place-making, and other related fields. Our work with local government also provides access to some of the most innovative practitioners. This combined access to theory and practice has resulted in a number of conferences here in Malibu hosted by the Davenport Institute, the Pepperdine School of Public Policy, and partner organizations.
Interested in being updated about future conferences and events? Don't forget to sign up for our monthly newsletter below.
Here you can explore some of our past and upcoming conferences.
Most Recent: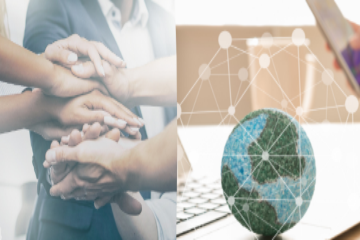 This was a special meeting about the emerging hybrid of online and in-person public participation using new digital tools and trusted and tested long-standing methods. This hybrid of digital and in-person engagement didn't functionally exist prior to COVID-19. However, in the last year and a half engagement pivoted to predominantly online. Now, both options are possible and we need to share what the early lessons learned are, how to plan which methods are best for the project and stakeholders, and resources to help all public participation managers succeed in this new era of a hybridized approach with more engagement options. This exciting conversation took place on July 21, but you can watch the recording here.

Past Conferences
 

Election 2.016 Technology and Civic Engagement (October 2016)

Held on October 14, 2016, just ahead of the historic 2016 presidential election, Pepperdine explored how technology is changing the way voters engage in the election process.  Bringing together tech innovators, academics, political strategists, democracy advocates and students, panels explored:
Information Voting in the Information Age
Kambiz "Kamy" Akhavan, President, ProCon.org
Nate Kaplan, Executive Director and Founder, SeePolitical
Daniel Newman, President and Cofounder, MapLight
Hunter Scarborough, Founder and Chief Executive Officer, Voter
Moderator: Ashley Trim, Executive Director, Davenport Institute for Public Engagement and Civic Leadership, Pepperdine University
Networking for Engagement
Deborah Devedjian, Founder and Chief Citizens' Officer, The Chisel
James Hall, Founder and CEO, Open Campaign
Matt Mahan, CEO, Brigade Media
Moderator: Pete Peterson, Dean, School of Public Policy, Pepperdine University
From Kissing Babies to Liking Posts: How Social Media has Changed the American Campaign
Vince Harris, Chief Digital Strategist, Rand Paul and Donald Trump campaigns
Melissa Ryan, Digital Strategist Obama 2012
Getting to the Ballot Box:  Technology and Political Engagement
Jill Brownfield, Founder, TurboVote
Jim Cupples, Director for RunForOffice.org, Nation Builder
Adam Silver, Founder, CitizenUp
Moderator: Alex Kouts, CPO, Countable; Head Product Dude, Lincoln Initiative
Election Day Technology
Dr. Joe Kiniry, CEO and Chief Scientist, Free & Fair
Greg Miller, Cofounder, OSET Foundation
Dr. John R. Patrick, President, Attitude, LLC
Steve Trout, Director of Election Innovation, Clear Ballot
Moderator: Derek Muller, Associate Professor of Law, Pepperdine University
County Registrar Roundtable:  Implementing Election 2.016
Kammi Foote, County Clerk/Recorder, Inyo County
Neal Kelley, Registrar, Orange County
Dean Logan, Registrar-Recorder/County Clerk, Los Angeles County
Moderator: Monica Childers Crane, Director of Government Services, DemocracyWorks
Election 2.016 is part of Pepperdine University's campus-wide effort to promote voter engagement in what will an historic Presidential Election, while also highlighting the importance of state and local elections to the communities we live in.
 

Reclaiming Place: A Civic Conversation (March 2014)

The Pepperdine School of Public Policy and the Davenport Institute are dedicated to healthy communities and to developing policies that cultivate local self-rule, robust local institutions, and deep attachment to the places where people make their lives. Reclaiming Place: A Civic Conversation was the third in a 3-part conference series on this question, held at the School of Public Policy on March 27, 2014.

Co-hosted by the Intercollegiate Studies Institute, "Reclaiming Place" celebrated the publication of a new book, Why Place Matters: Geography, Identity, and Civic Life in Modern America (Encounter Books 2014), devoted to the problem of sustaining a more vibrant sense of place and community in contemporary America. Blending lectures with freewheeling discussion by scholars and practitioners alike, "Reclaiming Place" offered an opportunity to reflect more deeply on the practical challenges and potential rewards of place-making in California cities.
Session One: How to Think About Place
Rod Dreher, Senior Editor, The American Conservative
With respondents:
Ted V. McAllister, Edward L. Gaylord Chair/Associate Professor of Public Policy, Pepperdine University
Wilfred M. McClay, G. T. and Libby Blankenship Chair in the History of Liberty, University of Oklahoma
Susan McWilliams, Associate Professor of Politics, Pomona College
Session Two: What to Do About Place
This conversation examined how concepts and themes from the book can be put into practice in the Golden State. Panelists included:

James Keene,City Manager, City of Palo Alto, California
Joe Mathews, "Connecting California" columnist and editor, Zocalo Public Square
Pete Peterson, Executive Director, Davenport Institute for Public Engagement and Civic Leadership, Pepperdine University
 

Gov 2.0 LA (April 2013)

The Gov 2.0 LA 2013 Conference offered a wide-ranging look at how technology is changing the citizen-government relationship. The day-long event is was held Saturday, April 20th at the Pepperdine School of Public Policy in Malibu. Speakers with a variety of expertise - from disaster recovery to transportation to politics and other fields - discussed how social media, applications, and data visualization are inviting more informed public engagement.
 

University Network for Collaborative Governance (June 2013)

The Davenport Institute for Public Engagement and Civic Leadership at the School of Public Policy hosted the 2013 University Network for Collaborative Governance (UNCG) Anual Meeting, June 2-4, 2013, here in Malibu.

UNCG is a national network of over two dozen university-based centers spanning from the Syracuse/Maxwell School to the University of Hawaii, and from the University of Washington to Florida State University. The mission of the network is to promote public engagement through research, training, and consulting. The meeting focused on decision-making that genuinely incorporates the public in policy definition, creation, and implementation.

This year's meeting focused on one central question: What new approaches or ways of thinking can university centers bring to collaborative decision making with both stakeholders and the public? The meeting featured a plenary panel looking at the City of Bell's dramatic shift toward public engagement and transparency.

Pete Peterson (MPP '07), executive director of the Davenport Institute, moderated the panel with Ken Hampian, former City of Bell interim city manager, and Ana Maria Quintana, City of Bell councilmember and recently elected Mayor Pro Tem.

Since the University Network for Collaborative Governance formed in 2008, member centers and affiliated university faculty and staff come together annually to examine the work being done to assist citizens and leaders to engage in dialogue, discussion, problem solving, and conflict resolution around public issues.
 

Gov 2.0 LA (April 2012)

The Davenport Institute hosted the Gov 2.0 LA 2012 Conference at Pepperdine's graduate campus in Malibu on Saturday, April 21, 2012.

The program featured leaders in government/online interaction, including:

Gabriela Dow, GovPartner
Jeanne Holm, Data.Gov and NASA/JPL
Nigel Camero, Strategic Futures, LLC

This year's themes included:

Business inside Government and how it is rapidly becoming different, things like SCRM are being deployed and government is basically being forced to restructure itself.

Government use and management of social media in crisis like the earthquake, hurricanes, wildfires and large scale urban fires, and protests and riots.

Engagement is now being taken as a for granted thing, "everyone has a facebook page" but how real is it and how are crowd-sourcing and public private partnerships re-arranging the landscape?

The conference was also live-streamed through Facebook.
 

Why Place Matters (March 2012)

Why Place Matters: Moving from Theory to Practice explored how the places where we spend our days—our homes, neighborhoods, and cities—shape us as much as we shape them.

They are central to who and what we are. And yet the "sense of place" has been withering away in today's mobile, fluid world. Our 2011 conference "A Place in the World," sought to identify the sources of this change. This follow-up conference, held on March 22, 2012, went beyond diagnosis to prescription as we explored the challenges facing policy makers as they seek to build an infrastructure for healthy communities. The Davenport Institute and Pepperdine's School of Public Policy are focused on turning ideas into practice and on the ongoing task of fostering local communities peopled with engaged citizens.
Sessions
Modernity and the Problem of Place for Civic Engagement - Ted McAllister
Planning for Spontaneity: Moving from Theory to Practice in Placemaking - Wilfred McClay
From Bell to the Beach: The Vital Relationship Between Place and Civic Participation - Pete Peterson
Roundtable: Rod Gould, Wade Graham, Pete Peterson, Joe Mathews, and Wilfred McClay (Moderated by Ashley Trim)
Speakers
Wade Graham is an adjunct faculty member at the School of Public Policy and has written widely on issues and policies related to urban life. He is active in national and regional organizations that deal with environmental issues and water policies as well as developments in urban design and planning.
Rod Gould is the city manager of Santa Monica, California. Prior to this appointment, Gould also served as city manager of Poway, San Rafael, and Monrovia, California. He served five years as assistant city manager of Walnut Creek, California, as well as president of the City Managers Department of the League of California Cities and on the league's board of directors. Gould served as the Davenport Institute's 2011 city manager in residence.
Joe Mathews is a Los Angeles-based journalist and author. He serves as California editor at Zócalo Public Square, Fellow at Arizona State's Center for Social Cohesion, and lead blogger for NBC's California site, Prop Zero.
Ted V. McAllister is the Edward L. Gaylord Chair and associate professor of public policy at the Pepperdine University School of Public Policy. He is an intellectual and cultural historian and author of Revolt Against Modernity: Leo Strauss, Eric Voegelin, and the Search for a Postliberal Order. McAllister is currently working on a book on Walter Lippmann. He served as the co-director of the 2011 "Place in the World" conference.
Wilfred M. McClay is the G.T. and Libby Blankenship Chair in the History of Liberty at the University of Oklahoma. He is also a Senior Scholar at the Woodrow Wilson International Center for Scholars and a Senior Fellow at the Ethics and Public Policy Center and at the Trinity Forum. McClay was the 2009-2010 William E. Simon Distinguished Visiting Professor at the Pepperdine University School of Public Policy and co-director of the 2011 "Place in the World" conference.
Pete Peterson (MPP '07) is executive director of the Davenport Institute for Public Engagement and Civic Leadership at the Pepperdine University School of Public Policy where he also lectures on leadership and public engagement. He consults with cities throughout California on participatory governance projects on issues from budgets to land use. He co-created and currently co-facilitates the training seminar, "Public Engagement: The Vital Leadership Skill," a program offered around the country to municipal and civic leaders.
Ashley Trim (MPP '09) is the assistant director of the Davenport Institute for Public Engagement and Civic Leadership at the Pepperdine University School of Public Policy and an assistant editor for Front Porch Republic. She served as a session chair for the 2011 "Place in the World Conference" for a panel entitled "Mobility and Membership."
 

A Place in the World (March 2011)

A Place in the World: Geography, Identity, and Civic Engagement in Modern America was held on March 11-12, 2011. For most of human history, "place" was something simple and obvious, central to one's identity. That is no longer true today. But have we grasped the full implications of that change, and its consequences for our lives? "A Place in the World" was a unique conference held in a unique place, Los Angeles.
Featured Speakers:
Christine Rosen, Senior Editor, The New Atlantis
Witold Rybczynski, Martin & Margy Meyerson Professor of Urbanism, University of Pennsylvania
Yi-Fu Tuan, J. K. Wright and Vilas Professor Emeritus of Geography, University of Wisconsin- Madison
Practitioner Roundtables featuring:
Rick Cole, City Manager, City of Ventura
Jim Keene, City Manager, City of Palo Alto
Karen Baker, Secretary of Service, California Volunteers
Ted Winterer, Planning Commissioner, City of Santa Monica
John Kaliski, Principal, Urban Studio LA
Daniel Iacofano, Principal, MIG, Inc.
Topics Addressed Included:
Mobility and Membership
Cosmopolitanism and place
Building a Place: The Shape and Scale of the Good Life
Is Los Angeles a Place?
The Public's Role in Defining Place
Public Engagement: A Chance to Build Community in the "New Normal"?
 

Deliberative Democracy in California (February 2007)

On February 23-24, 2007 the Deliberative Democracy in California Conference, co-hosted with the Pepperdine University School of Public Policy, and with additional sponsorship by New America Foundation, explored important ways of furthering democracy in California.

The emerging field of deliberative democracy uses tools such as citizen dialogues, deliberative polling, and citizen's assemblies to engage regular citizens in policy issues to break through partisan gridlock, overcome special interest domination, and rekindle a sense of civic ownership of government policy. We invited a number of civic leaders in California as well as experts nationwide, to explore how deliberative democracy might be useful in improving public policy in the Golden State.

The first session featured Dr. James Fishkin, director of the Center for Deliberative Democracy at Stanford University; Dr. Carolyn Lukensmeyer, director of AmericaSpeaks in Washington, D.C.; and Dr. Steven Rosell, president of Viewpoint Learning in California. We also received a report from Gordon Gibson regarding the citizen's assembly project in British Columbia. During the first afternoon, a wide range of social, cultural, business, nonprofit and political systems leaders in the state discussed how the tools of deliberative democracy may be useful in California, and what limitations or challenges they see to these tools.

Saturday's session featured a deliberative exercise considering specific approaches we might take in California.
Newsletter
Keep up with the latest Davenport Institute news by joining our mailing list.