Local Government in Residence Program
The Davenport Institute for Public Engagement and Civic Leadership is proud to bring local government leaders to the Pepperdine Malibu campus through our Local Government in Residence Initiative. This effort includes two programs designed to provide School of Public Policy students with the opportunity to have one-on-one conversations with those in local government leadership, specifically current city managers and mayors. For our mayors and city managers in residence, this initiative gives them the opportunity to mentor future policy leaders and share their experiences working in local government.
Originally introduced in 2011 as the City Manager in Residence program, a part of a collaborative effort developed by the California International City Manager Association (Cal-ICMA) to offer students in graduate public policy and public administration programs the opportunity to learn first-hand from city managers, this initiative has expanded to offer a Mayor in Residence program as well.
The Mayor in Residence program is offered as a 1-day event during the fall semester, and the City Manager in Residence program is offered as a 1-day event during the Spring semester. In addition to a series of individual conversations, our local government leaders in residence also participate in a special Davenport Discussion and join the ICMA student chapter for lunch.
---
Mayor in Residence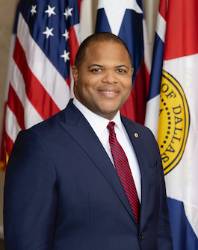 Fall 2023 marks the start of our Mayor in Residence Program and we are thrilled to have Mayor of Dallas, Texas, Eric Johnson join us.
Prior to becoming mayor, Johnson served as a member of the Texas House of Representatives, where he represented the City of Dallas from April 2010 to June 2019. During his tenure in the Texas Legislature, Johnson served on several legislative committees, including Appropriations, Ways and Means, Higher Education, and Natural Resources. He also served as chairman of the Dallas Area Legislative Delegation. In addition to his service as Mayor of Dallas, Johnson is also a partner with the international law firm of Locke Lord LLP.
City Manager in Residence
The City Manager in Residence is our original program under the Local Government in Residence Initiative. We are delighted to have hosted amazing City Managers on campus since 2011. We are currently in the process of scheduling our next City Manager in Residence program in Spring 2024, stay tuned for updates.
Past City Managers in Residence

Drew Powers (2023)
Drew Powers is the city manager for the City of Thousand Oaks, California. Prior to his work in Thousand Oaks, Drew managed communications & media relations, web development, and community partnerships for the City of Ventura's Civic Engagement Division. He also has led marketing, corporate relations, and program development activities for the City of Raleigh, North Carolina, Parks & Recreation Department.

Troy Brown (2022)
Troy Brown is the City Manager of Moorpark, California. Prior to this, he served as assistant city manager of Livermore, California. Brown has been an active member of ICMA since 2004, serving as West Coast Regional Vice President on the ICMA Executive Board and as elected 2020-2021 president of ICMA.

Matt Bronson (2021)

Matt Bronson is the City Manager of Grover Beach, California. Prior to his service in Grover Beach, he worked as the assistant city manager of San Mateo for six years. Through local government, Bronson has demonstrated a remarkable ability to turn visions, goals, policies, and ideas into reality.