Constitution Day 2023: The Hebrew Bible's Impact on America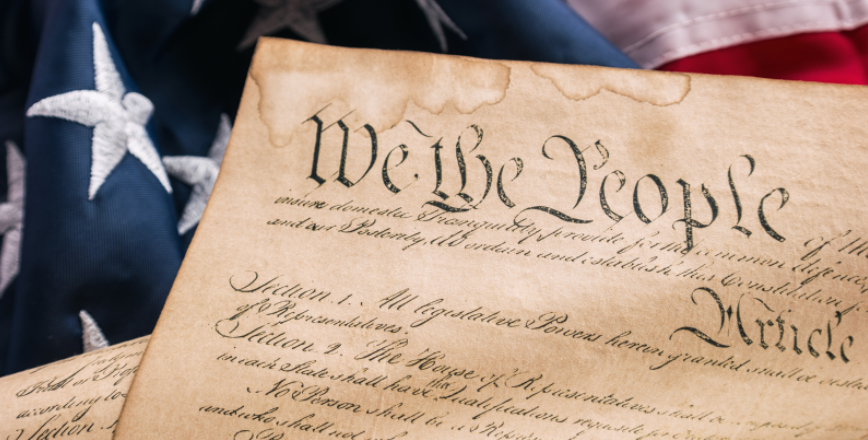 Event Details
Wednesday, September 13, 2023
11:30 AM - 1:30 PM
Villa Graziadio Executive Center EC 115/116
Drescher Graduate Campus
Pepperdine University
Malibu, CA
View Presentation Slides
For more information about this event, or to be added to the waiting list please email sppevents@pepperdine.edu or call 310.506.7490.
How the Story of Ancient Israel has Shaped the United States from Our Country's Founding to Today
Join the School of Public Policy and our friends at Yeshiva University's Straus Center for Torah and Western Thought for Constitution Day 2023! In this series of lectures by top scholars, we'll explore the importance of the Hebrew Scriptures on the American Founding and the forming of central themes of American identity.
This is our second event partnering with the Straus Center, and follows our "Role of Religion in Politics and the Role of Politics in Religion" panel discussion featuring Rabbi Dr. Meir Soloveichik back in 2020.
Limited Seating. RSVP required.


Speakers
Rabbi Dr. Meir Y. Soloveichik: Director
Rabbi Dr. Meir Y. Soloveichik is the director of the Zahava and Moshael Straus Center for Torah and Western Thought at Yeshiva University and rabbi at Congregation Shearith Israel in Manhattan. He graduated summa cum laude from Yeshiva College, received his semikha from RIETS, and was a member of its Beren Kollel Elyon. In 2010, he received his doctorate in religion from Princeton University. Rabbi Soloveichik has lectured throughout the United States, in Europe, and in Israel to both Jewish and non-Jewish audiences on topics relating to Jewish theology, bioethics, wartime ethics, and Jewish-Christian relations. He is the author of Providence and Power: Ten Portraits in Jewish Statesmanship, a book devoted to ten of the most consequential Jewish leaders in history. His essays on these subjects have appeared in The Wall Street Journal, Commentary, First Things, Azure, Tradition, and the Torah U-Madda Journal.
Rabbi Dr. Stu Halpern: Deputy Director
Rabbi Dr. Stu Halpern is senior advisor to the Provost (the chief academic officer) of Yeshiva University and deputy director of the Straus Center for Torah and Western Thought, and is responsible for developing educational and communal initiatives that bridge Torah and general studies. Dr. Halpern received his undergraduate degree from the University of Pennsylvania, a master's degree in psychology in education from Teachers College at Columbia University, a master's degree in Bible from the Bernard Revel Graduate School of Jewish Studies, an MBA in nonprofit management from Touro University, a doctorate in education from the Azrieli Graduate School of Education and Administration, and rabbinic ordination from Rabbi Chaim Brovender. He has edited or co-edited 16 books, including Esther in America; Gleanings: Reflections on Ruth; Books of the People: Revisiting Classic Works of Jewish Thought; and Torah and Western Thought: Intellectual Portraits of Orthodoxy and Modernity, and has lectured in synagogues, Hillels, and adult Jewish educational settings across around the world.
Rabbi Dr. Dov Lerner: Clinical Assistant Professor
Rabbi Dr. Dov Lerner is a clinical assistant professor at the Straus Center for Torah and Western Thought—with responsibilities for teaching courses in the college, mentoring students, conducting research, and publishing writings reflective of the center's intellectual emphases. He received both his BA in English literature and his semikha from Yeshiva University, and his MA, in religion, and Ph.D., in the history of Judaism, from the University of Chicago's Divinity School. In 2023, Rabbi Lerner was selected for The Rabbi Lord Jonathan Sacks Scholars Programme. He lives in Queens, NY, with his wife and two children, where he serves as the Rabbi of the Young Israel of Jamaica Estates.
Dr. Shaina Trapedo: Resident Scholar and Recruitment Officer
Dr. Shaina Trapedo teaches at Stern College and Manhattan High School for Girls, and is committed to exploring the connections between literacy, cultural identity, and social engagement in her teaching and scholarship. She received her Ph.D. from the University of California, Irvine, and her current book project, From Scripture to Script: David, Daniel, Esther and the Performance of Early Modern Identity, considers the affordances and risks of hermeneutic engagements on the Renaissance stage.