Conservative Political Action Conference 2019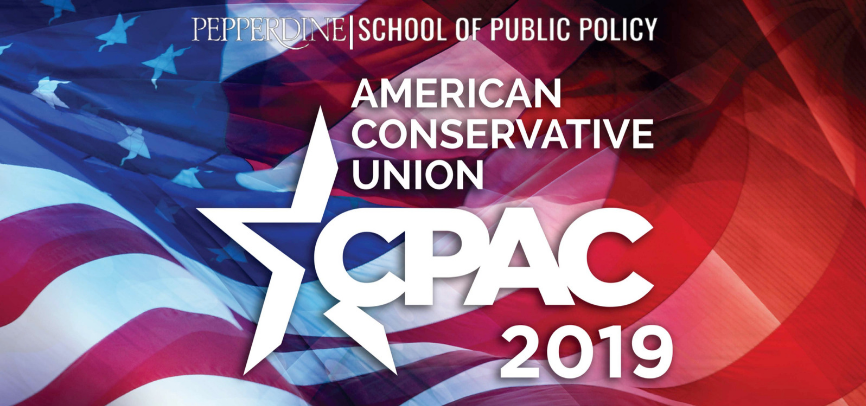 Event Details:
Saturday, March 2, 2019
8 AM - 2:30 PM
Pepperdine Drescher Campus
Wilburn Auditorium
Malibu, California
Satellite Location Ticket Costs:
General Admission: $55.00
Pepperdine Students/Staff: Free*

*Pepperdine students & staff must email sppevents@pepperdine.edu to register.
For more information please email sppevents@pepperdine.edu, or call 310.506.7490
The Pepperdine School of Public Policy is proud to host the Conservative Political Action Conference (CPAC) as one of its satellite locations on March 2, 2019. Satellite CPAC locations are a part of CPAC. Attendees at these locations will watch CPAC programming from Washington DC. In addition, live programming will take place in Malibu and be streamed to main stage for the Washington DC audience to watch. This is a truly interactive experience. Be a part of CPAC from a Pepperdine University, Malibu satellite location.
Agenda
8:00 AM - Check-in & Livestream from DC
8:15 AM - Malibu Welcome
8:30 AM - 2:30 PM - CPAC Panels
Speakers*
Lanhee Chen, David and Diane Steffy Research Fellow, Hoover Institution
Congressman Tom Mcclintock, Representative California's 4th Congressional District
John Wood, Director of Media Development at Better Angels
*More panelists to be announced
About the Conservative Political Action Conference
ACU founded and hosts the annual Conservative Political Action Conference (CPAC), the birthplace of modern conservatism. CPAC combines ideas with action to leverage the strength of thousands of grass-roots activists to break through the resistance of Washington's powerful elites.
The powerful combination of knowledge and activism is critical for the advancement of conservatism. Under its new leadership team, ACU has launched CPAC 365, a nationwide effort to do the work of CPAC year round. This initiative will ensure the growth and continued success of the grassroots conservative movement by keeping it educated, equipped and motivated for principled and effective action. As President Ronald Reagan said in 1985, "CPAC is the opportunity to dance with the one who brung ya."
How to Register
Step 1: Click "Register" on this page
Step 2: If you do not have a CPAC ID#, start a new registration. Must enter email and create password
Step 3: Enter Personal Information
Step 4: Agree to Terms and Conditions
Step 5: Under Registration, scroll down and click: "Satellite CPAC Locations" (You will see "Malibu-Pepperdine University" as location)
Step 6: Select "CPAC Malibu" then click continue
Step 7: Add additional registrations if necessary. If not, click continue
Step 8: Confirm Registration Information
Step 9: Choose payment method and proceed to check out