Toward A Conservatism of Connection: Reclaiming the American Project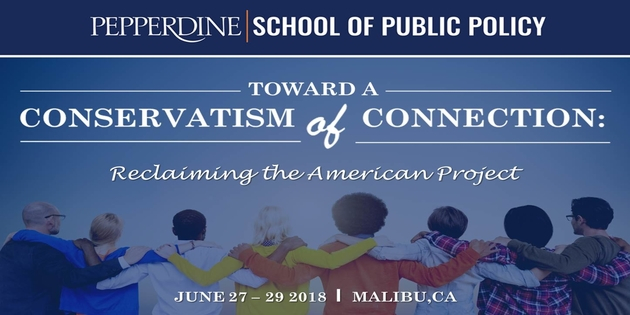 Event Details:
June 27-29, 2018
Drescher Graduate Campus, Pepperdine University
Malibu, California
For more information, please contact Melissa Espinoza at 310.506.7490
America is in an era marked by polarization, alienation, and loneliness and it's only set to worsen. This environment is a result of today's politics as we see extreme levels of opposition between partisans along with declining levels of civic participation. The "Conservative Connection" is a renewed understanding and application of conservatism by celebrating the American Constitution and the intricate system of tiered governing institution, civic institutions, and engaged citizenry it both devises and depends on. How can a "Conservatism of Connection" best respond to this crisis?
Hosted by the Pepperdine School of Public Policy and The American Project, this three-day conference will first examine this crisis in conversation with researchers, followed by a look at the "Conservatism of Connection" through the lenses of public policy, religious liberty, and foreign policy. Panelists will include leading academics, pundits, and activists.