Building Collaborative Education Policy In California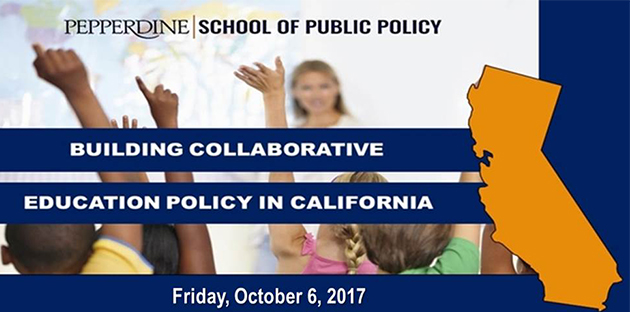 Watch the conference video here.
Building Collaborative Education Policy in California
Friday, October 6, 2017
10 am-1:30 pm
Wilburn Auditorium
Drescher Graduate Campus, Pepperdine University
Malibu, California


For more information, please contact Melissa Espinoza at 310.506.7490
The education conversation in California is complex, heated, and usually leaves little room for dialogue among the various key stakeholders charged with improving educational outcomes for students. Too often educators, school districts, community leaders, parents, and students seeking to find helpful solutions to current challenges faced within public schools find themselves on polar sides of the discussion and education policy. Are there paths toward collaboration?
The School of Public Policy and Evelyn Aleman (MPP '00), president of Media Image PR, invite you to the 2017 Education Conference, entitled "Building Collaborative Education Policy in California." The conference will feature Hanna Skandera, former secretary of education for the state of New Mexico, as keynote speaker. Skandera was appointed by Governor Susana Martinez in 2011, to lead the transformation of New Mexico public schools. Under Skandera's leadership, New Mexico graduation rates reached an all-time high, AP course enrollment doubled, and the number of "A" and "B" schools increased by one-third.
The event will comprise two panels featuring state and local education leaders, led by well-known local journalists: Laura Greanias, executive editor of LA School Report; and Kyle Stokes, K-12 Education Reporter at 89.3 KPCC.
Conference Agenda
| | |
| --- | --- |
| 9-10 am | Registration & Light Breakfast |
| 10-10:05 am | Welcome: Dean Pete Peterson |
| 10:05-10:50 am | Keynote Speaker: Hanna Skandera (MPP '00) |
| 10:50-11:50 am | Panel 1: Current Challenges in the Educational Landscape |
| 12-12:30 pm | Lunch |
| 12:30-1:30 pm | Panel 2: Moving Toward Collaboration - Sharing Best Practices |
| 1:30 pm | Next Steps, Program Ends |