Race and the Constitution: Equality or Reason?
2016 Constitution Day Lecture
Event Details
Adam MacLeod
Associate Professor, Thomas Goode Jones School of Law
Faulkner University
Tuesday, September 20, 2016
Wilburn Auditorium
Drescher Graduate Campus
Malibu, California
12 PM

For more information, please contact the School of Public Policy at 310.506.7490.
Conventional wisdom today holds that our Constitution and civil rights laws prohibit racial discrimination because of equality, and that discrimination between persons is generally suspect and often unlawful. An older view is that racial discrimination violates our constitutional commitments because it is contrary to reason, and that any particular judgment in respect of persons is lawful or not depending on the reasons offered for it. The difference between these two explanations has profound implications for civil rights conflicts today. Join the School of Public Policy for its annual Constitution Day lecture with Constitutional scholar Adam MacLeod, associate professor at Faulkner University.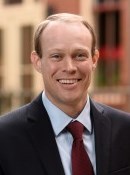 MacLeod is associate professor at the Thomas Goode Jones School of Law at Faulkner University. He has been a visiting fellow in the James Madison Program in American Ideals and Institutions at Princeton University. He is a member of the Foundation for Economic Education's faculty network and teaches private law theory in the Witherspoon Institute's Moral Foundations of Law graduate seminar. He is the author of Property and Practical Reason from Cambridge University Press, and of articles, essays, and book reviews in peer-reviewed journals and law reviews in the United States, United Kingdom, and Australia. He contributes to the online journals Public Discourse and Library of Law & Liberty. He served as a special deputy attorney general of Alabama, advising the governor and attorney general concerning the constitutionality of the natural family. MacLeod speaks publicly and writes amicus curiae briefs concerning religious liberty, conscience, the family, private property, and other pre-political sources of ordered liberty. Previously he practiced law in Boston and was law clerk to Chief Justice Christopher Armstrong and Justice Benjamin Kaplan of the Massachusetts Appeals Court and to Chief Judge Lewis Babcock of the United States District of Colorado. MacLeod holds degrees from Gordon College and the University of Notre Dame Law School. He lives with his wife, Katie, and their daughters in Montgomery, Alabama.