Events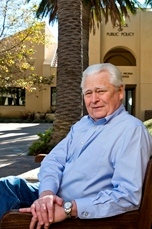 Constitution Day Lecture 2013:
"The Political Economy of the American Founding: A Constitutional Interpretation of Economic Theory"


Gordon Lloyd
Professor of Public Policy,
School of Public Policy, Pepperdine University
Wednesday, September 18, 2013
1 p.m.
Drescher Campus Rm LC159
Pepperdine University
Malibu, California
School of Public Policy Professor Gordon Lloyd will focus his Constitution Day lecture on the enduring impact of Charles Beard's An Economic Interpretation of the Constitution published 100 years ago. He will invite the audience to consider whether or not the Constitution of 1787 contains a coherent and relevant response to Beard's influential economic critique of the work of the American Founders.
For more information, please contact Brittany Weber at 310.506.7686.