Obama: Meteoric Rise and Dramatic Decline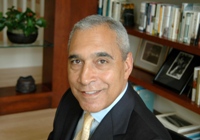 The Charles and Rosemary Licata Lecture

"Obama: Meteoric Rise and Dramatic Decline"
Shelby Steele
Robert J. and Marion E. Oster Senior Fellow at the Hoover Institution, Stanford University
Wednesday, January 12, 2011
11 AM
Reception to follow
Drescher Graduate Campus Auditorium
Pepperdine University
Malibu, California
Steele will examine Barack Obama as a cultural—as well as a political figure, and explore the recent history that brought America its first black president.
Shelby Steele is the Robert J. and Marion E. Oster Senior Fellow at the Hoover Institution at Stanford University. He specializes in the study of race relations, multiculturalism, and affirmative action. Steele has written widely on race in American society and the consequences of contemporary social programs on race relations.
He has received numerous awards for his work including the Bradley Prize and the National Humanities Medal. He was recognized for his work on the documentary "Seven Days in Bensonhurst" with several awards including an Emmy Award and the Writer's Guild Award. Steele received the National Book Critic's Circle Award in 1990 for his book The Content of Our Character: A New Vision of Race in America. Steele has authored several other books on race relations and has written extensively for major publications including the New York Times, Wall Street Journal, and a contributing editor at Harper's magazine. He has also appeared on national current affairs news programs including Nightline and 60 Minutes.
Steele holds a PhD in English from the University of Utah, an MA in sociology from Southern Illinois University, and a BA in political science from Coe College, Cedar Rapids, Iowa.