Flags, 9/11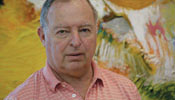 Robert I. Weingarten
Original Artist Print Unveiling
Thursday, April 8, 2010
11:30 AM

Please join the School of Public Policy for a special unveiling of a new piece of original artwork by Malibu artist and photographer Robert I. Weingarten. "Flags, 9/11," is the artist's original print that will be displayed in the lobby and entrance to the School of Public Policy.
The artwork will be formally unveiled on Thursday, April 8, at 11:30 a.m., where Weingarten will be introduced and speak about his piece given to Pepperdine in remembrance of 9/11. This artistic rendering displays Pepperdine University's flag commemoration on September 11, 2009, of the 9/11 tragedy, set against historic photographs taken on September 11, 2001, at the World Trade Center in New York City.
A widely shown and collected artist, Weingarten's current exhibit, "The Portrait Unbound," is on display at the High Museum of Art in Atlanta, Georgia, which is built around pieces using the same techniques as the new work to be unveiled at the School of Public Policy. He was recently featured at the Corcoran Gallery of Art in Washington, D.C., and at the Kodak headquarters in New York. Another Weingarten collection is scheduled for opening at the Smithsonian in Washington, D.C., this summer. A detailed interview with Robert Weingarten about his current exhibit at the High Gallery can be viewed here.
Following the unveiling, all guests are invited to an informal reception in the courtyard in front of the School of Public Policy. Light refreshments will be served.
For more information, please call the Office of the Dean at 310.506.7490.