Washington, DC Policy Scholars Program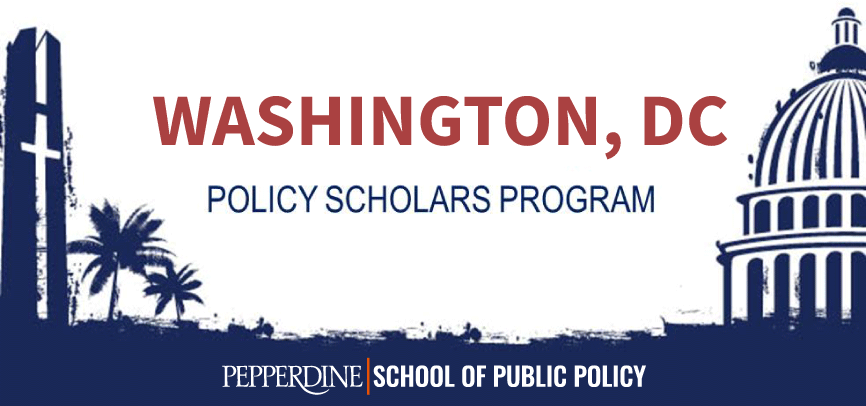 2019 DC Policy Scholars Program:
The Pepperdine School of Public Policy host an annual Washington, DC Policy Scholars Program—an exclusive full-tuition scholarship, 3-unit class—where accepted students learn from top policy academics and practitioners about the role faith has played and continues to in American domestic and foreign policy. This program is a four-week seminar to accommodate 20 qualified students, and is hosted at Pepperdine's Washington, DC Campus located just a few blocks from the White House and Foggy Bottom Metro Station. Upon completion of the program, scholars receive a participation certificate, and may use the credits at their home undergraduate institution (if enrolled) or towards future enrollment at Pepperdine's School of Public Policy.
American Gospel: The Role of Religion in US Domestic and Foreign Policy
Location:
Pepperdine University's Washington, DC Campus
2011 Pennsylvania Avenue NW, Washington, DC
(three blocks from Foggy Bottom Metro)
Date:
June 4, 2019 - June 29, 2019
T/Th: 6:30 PM to 10:00 PM
Sat: 8:30 AM to 12:30 PM


Who can attend:
With only 20 spaces available, the scholars program is open to incoming college juniors and seniors; current enrolled graduate students, and early-/mid-career individuals with a college degree.
Faculty:
Dr. Ryan Streeter, Director of Domestic Policy Studies, American Enterprise Institute (AEI)
Elizabeth Spalding, Associate Professor of Government, Claremont McKenna College
Course Description:
A graduate introduction to American domestic and foreign policy, its historical development, and present-day debates. Historians and political scientists tend to talk as though the individuals and institutions shaping US policies, at home and abroad, were detached from moral concepts and religious ideals. Though useful in some ways, the secular approach to studying American public policy is inadequate for understanding many of the most important moments in US political and diplomatic history.
This class will explore the main themes that have characterized America's domestic policy debates, from the abolition movement to the Civil Rights movement to debates over abortion and marriage policy. Scholars will also explore America's engagement in the world, focusing on the 20th century and concluding with the administration of President Donald Trump. Special attention will be given to how cultural and religious factors have served as a motivator of US policy and as an instrument of policy. This is important for at least two reasons: First, there always has been an intimate bond between religion and America's sense of its democratic character and mission in the world. Second, the terrorist attacks of 9/11 demonstrate that religious forces will play a significant role in defining US foreign policy objectives for the foreseeable future—whether we like it or not.
Concepts Covered:
How faith movements shape American domestic policy
The unique role religion has played in American civil society
The varying roles religion has played in American politics
How religion has been used to define America's role in the world
Religion in an "Age of Terror"
Tuition:
Students selected to be 2019 Pepperdine Washington, DC Policy Scholars will be awarded full-tuition scholarships for this 3-credit class. Class size is limited to 20 students.