Joint Master of Public Policy and Master of Business Administration (MPP/MBA)
The Master of Public Policy and Master of Business Administration (MPP/MBA) degree program is a joint program between the School of Public Policy and the Graziadio Business School full-time program.
Pepperdine's philosophy of leadership is one that embraces the highest academic standards guided by sound ethical principles. The joint MPP/MBA degree program provides an enriched leadership experience by focusing on management capabilities, leadership qualities, and a commitment to utilizing the tools of analysis and policy design to effect successful implementation and institutional change.
The Graziadio Business School full-time MBA program is well regarded for preparing students for leadership roles in an expanding global marketplace. The School of Public Policy program draws deeply on this nation's ethical and historic roots. Both programs aspire to train students who are willing to strive for academic excellence and moral decisiveness, who are inspired to delve deeply into societal, community, and global issues of management and leadership. Both schools nurture ethical and managerial skills of organization development and strategy.
The Graziadio Business School provides eight areas of elective concentration: Business Analytics; Digital Innovation and Information Systems; Dispute Resolution; Entertainment, Media, and Sports Management; Entrepreneurship; Finance; Leadership and Managing Organization Change; and Marketing. In addition, a Certificate for Socially, Environmentally, and Ethically Responsible (SEER) Business Practice is available.
Interested students must apply and be accepted by both the School of Public Policy and the Graziadio Business School program, separately. Please consult the academic catalog for joint degree program details. Applicants pursuing the MPP/MBA program may substitute the GMAT for the GRE.
Program Benefits
Top Ranked Schools
U.S. News and World Report ranks Pepperdine's MPP a top 10 graduate policy program in the West and the Pepperdine MBA #83 in Best Business Schools.
Finish Faster
Complete two degrees in three years. Students finish an MPP and an MBA in three years instead of the typical four.


Maximize Career Outcomes
Private Sector
Consulting Firms, GovTech Firms, Data Analytics, Lobbying, Corporate Policy Making and Regulation, Corporate Communications
Nonprofits
Think Tanks, International NGO's, Policy-Focused Nonprofits (Education Policy, Health Policy, Homelessness, Criminal Justice)
Government
Foreign Service, Intelligence Agencies, State/Local Government Leadership, Capitol Hill Staff, Campaigns
Take the Next Step
Reach out to us to learn more about Pepperdine's MPP program.
Start Your Application
Make a significant impact in the world through a cross-sector degree. Start your public leadership journey.


Take a Tour
Explore the Malibu campus, from the classrooms to the on-campus housing and all of the resources available to prepare for your future in public leadership.
Get In Touch
Fill out the Request Information form to learn about the opportunities that await you and get in contact with an SPP staff member.


Curriculum
The joint MPP/MBA degree program requires a total of 85 units: 38 units of public policy curriculum and 47 units of business school courses. It thus permits the student to complete in three years what ordinarily would require four years if undertaken separately.
Customize your degree with several MPP specializations and MBA concentrations to choose from.
MPP Specializations
American Policy and Politics
Applied Economic Policy
International Relations and National Security
Public Policy and Dispute Resolution
State and Local Policy
MBA Concentrations
Business Analytics
Digital Innovation and Information Systems
Dispute Resolution
Entertainment, Media, and Sports Management
Entrepreneurship
Finance
Leadership and Managing Organizational Change
Marketing
Scholarships
Joint degree students are eligible for the Pepperdine School of Public Policy awarded scholarships each year. Awards are made available through endowed funds, gifts from supporters and alumni, and allocation of University general funds. The Scholarship Committee awards scholarship based on merit, academic, and professional experiences.
Students must apply separately for scholarships made available through the Pepperdine Graziadio Business School.
97%
of students receive scholarship support*
70%
average amount of tuition covered by scholarships*
*Average MPP scholarship based on estimated 2022-2023 enrollment data and is not a guarantee of funding.
---
School of Public Policy MPP Admission Requirements
Applications are accepted for the Fall term only following each of our completion deadlines.
The School of Public Policy processes completed applications beginning October through July for each Fall term enrollment. We provide a checklist of requirements, which includes transcripts, letters of recommendation, and a personal essay focusing on your moral and ethical point of view.
---
Graziadio Business School MBA Admission Requirements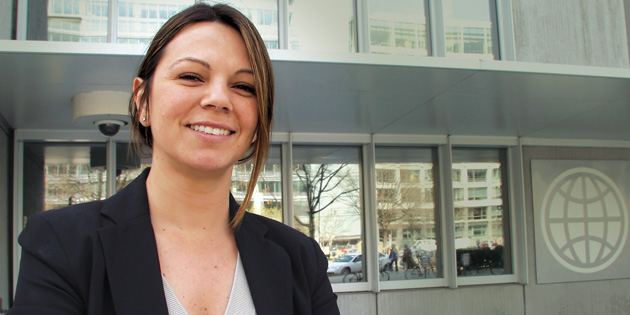 Wavemaker Highlight
Ximena Del Carpio
Senior Economist
Human Development, Social Protection and Labor Unit
World Bank
Washington, District of Columbia
Distinguished Alumnus Award Recipient, 2014
MPP/MBA, Pepperdine University, 2000
Specialization: International Relations
Contact Us
Office of Admission
Pepperdine University
School of Public Policy
24255 Pacific Coast Highway
Malibu, CA 90263