SPP Remains Top 10 MPP Program in the West as Ranked by U.S. News & World Report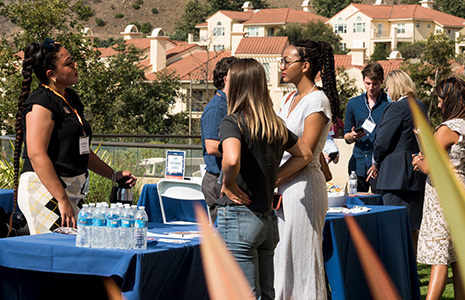 The Pepperdine School of Public Policy (SPP) ranked a top 10 program in the West among 275 policy programs in the just-released 2023edition of Best Graduate Schools for Public Affairs by U.S. News & World Report.
This year marks the 25th year of SPP. The school was founded in 1997 following the launch of the Davenport Institute in 1996. SPP is built on a distinctive philosophy of preparing public leaders to use tools of analysis combined with their moral sense to affect successful implementation and real change. Through a curriculum grounded in understanding policy inherent philosophical and historical dimensions, SPP prepares cross-sector leaders for careers that strengthen the institutions of the private, nonprofit, and government sectors.
As we enter our 25th anniversary, Im happy to see SPP maintain its position in the top 10 MPP programs in the West, said Pete Peterson, dean of the school. Im excited about a number of program and faculty announcements well be making this year, as we step confidently into our next quarter century, he added.
In April 2022 Bryon Johnson, Distinguished Professor of the Social Sciences at Baylor University, was named Distinguished Visiting Professor of Religious Studies and the Common Good, and Kiron Skinner will serve as a full-time faculty member as the Taube Professor of International Relations and Politics.
Early this month, founded by board members alumni Chandra (99, JD 02) and Adam (99) Melton, SPP launched the first program of its kind at a major graduate policy school, the Edwin Meese III Institute for Liberty and the American Project. The institute will become the new academic home for scholarship, teaching, and events focused on connecting America founding principles to today national policy challenges. Organizationally, it will be the foundation of the school American Policy and Politics curriculum track, formed to prepare public leaders in domestic policy for careers in Washington, DC, and America top policy research institutions.
SPP offers a two-year, full-time master of public policy program with its comprehensive James Q. Wilson Core curriculum grounded in both policy analysis and an exceptional understanding of the many factorscultural, historical, philosophical, and faith perspectivesto employ what Dr. Wilson called our "moral sense." The need to humanize our politics and policymaking has never been greater, which is why we say from our breathtaking campus, our students "will see public policy differently from here." Through coursework and co-curricular events, SPP demonstrates its commitment to viewpoint diversity, which it views as an integral component to the preparation of leaders going into careers in policy and politics.
SPP introduced the new fully online master of public policy and leadership with Keypath, Inc. This innovative program is designed for early- to mid-career working professionals as well as late-career changers in the nonprofit, public, and private sectors. Consistent with SPP's on-campus MPP degree program, the curriculum across the various specializations is composed of a blend of skills-based coursework including analytical classes with liberal arts classes in history and political philosophy providing a well-rounded approach to public leadership education.
In today's complex political and economic environment, professionals who can humanize politics, create sustainable policy solutions, and practice effective public leadership is needed now more than ever. This unique stackable certificate model allows you to stack the core certificate and one of the remaining three certificates together, with only one additional class, to earn the comprehensive online master of public policy and leadership.
SPP offers joint degree programs in partnership with Pepperdine's top-ranked graduate schoolsPepperdine Graziadio Business School, Pepperdine Caruso School of Law, and Straus Institute for Dispute Resolution. SPP also facilitates a 3-credit Washington, DC Policy Scholars Program during the summer, on the topics of American Gospel: The Role of Religion in US Domestic and Foreign Policy and "Humanizing Education Policy: A Study of Foundational Philosophies and Practices."