What can I do with an MPP/JD Degree?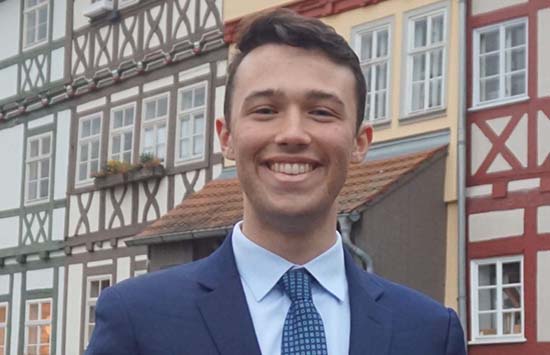 What is a Master of Public Policy?
When I graduated from Pepperdine Seaver College in 2020, after studying international relations and economics, I knew I wanted to continue my education in both of those fields. But how? As a Seaver student, I held a leadership position on Pepperdine's Model United Nations team, which has a close relationship with the Pepperdine School of Public Policy (SPP). This not only acquainted me with the master of public policy (MPP) but also with SPP's unique approach to it.
At SPP, an MPP is an interdisciplinary professional degree that provides each student with a balance of quantitative and qualitative skills applied to one or more specific areas of study known as "specializations." All students begin their MPP careers with a core qualitative curriculum involving Great Books/political philosophy, strategy, leadership, and a deep dive into the United States Constitution and the history of American public policy. The core quantitative curriculum consists of courses in statistics, microeconomics, and macroeconomics. These courses form the analytical "toolkit" that students apply to their specialization of choice.
Based on my undergraduate experience, I chose to specialize in both International Relations/National Security and Applied Economic Policy, but SPP also offers other specializations including American Policy and Politics, State and Local Policy, and Dispute Resolution.
My specialization courses have allowed me to apply the core curriculum's "toolkit" to many quantitative and qualitative courses, including war strategy, political judgment and statecraft, global economics and international trade, and econometrics. In addition, I recently had the opportunity to participate in a summer research internship focused on American foreign policy.
What is a Juris Doctor, and how does it work together with an MPP?
Shortly after embarking on my MPP journey at Pepperdine, I decided that I wanted to pursue a Juris Doctor (JD) as well. A JD is the standard law degree that future lawyers pursue to practice law in the United States. In the fall of 2021, I began pursuing my JD at Pepperdine Caruso School of Law, and have taken courses in Civil Procedure, Torts, and Criminal Law.
Conceptually, the MPP and the JD degrees blend together quite nicely. For example, the MPP "toolkit" provides many of the historical, moral, and practical frameworks that are often implicit, but almost never directly addressed, in JD courses. A typical JD course involves the meticulous examination of dozens of court cases that apply these public policy principles to specific, real-life situations. Occasionally, a court's opinion may emphasize the public policy underpinnings of a certain legal principle, like, "public policy prefers trial on the merits," or even adopt a new legal rule using the phrase "as a matter of public policy." Some cases rely on the econometric analysis of data as evidence or reasoning when coming to a legal conclusion. In general, public policy has been critical in providing the moral and analytical frameworks that have been refined by English common law and the U.S. Constitution into the American legal and political systems that we have today.
Practically, the MPP/JD experience provides students with an enhanced public policy and legal skill set that will equip them as future leaders ready to take on some of the biggest challenges in law and policy. This is ideal for students who wish to solve public policy problems using the legal system or the legislative process, or for students interested in engaging law and public policy from a business or nonprofit perspective.
Jobs & Salary
Both the MPP and the JD are graduate-level professional degrees designed to open a wide variety of career opportunities in the legal, business, government, and nonprofit sectors. MPP/JD students who pass the bar exam have all of the same career opportunities as standalone JD students, which include careers such as a lawyer, arbitrator, judge, consultant, mediator, or professor. Graduates can also pursue careers in fields like government affairs, diplomacy, policy advising, and political consulting in the research, private, government, and nonprofit sectors.
The salary range for an MPP/JD degree can vary wildly depending on the career path that each graduate pursues, ranging from $70,000 to at least $125,000, but it's important to note that having an MPP/JD distinguishes a job candidate and makes him or her stand out from other candidates with the standalone degree.
MPP and JD Core Classes
Here is a list of the core classes at Pepperdine for each degree:
MPP Core Classes
The Roots of American Order: What is Public Policy?
Ethical Dimensions of Public Policy: Great Books and Great Ideas
Applied Economic Analysis of Public Policy I (Microeconomics)
Applied Economic Analysis of Public Policy II (Macroeconomics)
Applied Research Methods in Public Policy (Statistics)
Political, Organizational, and Strategic Aspects of Public Policy Analysis
Professional Development
Policy Seminar (Capstone)
JD Core Classes
Civil Procedure
Constitutional Law
Contracts
Criminal Law
Legal Research and Writing
Property
Torts
Corporations
Criminal Procedure
Ethical Lawyering
Evidence, Remedies
Wills and Trusts