SPP Hosts New Webinar Series on "Communitarian Conservatism"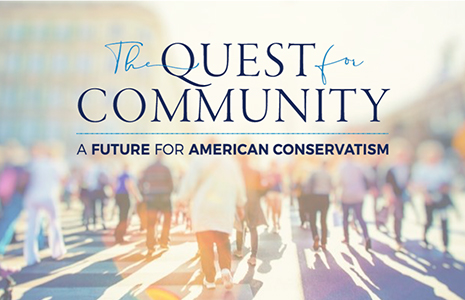 The School of Public Policy's American Project: On the Future of Conservatism initiative will be hosting a new series of webinars titled, "The Quest for Community," which will feature scholars, activists, and policymakers exploring the implications of "Communitarian Conservatism" in policy and politics. The series begins on Thursday, July 16th at 9 AM PDT/Noon EDT with New York Times' columnist, Ross Douthat, and author/opinion writer, Gracy Olmstead answering the question, "Is Communitarian Conservatism relevant in an age of 'social distancing' and political polarization?"
A unique effort in academia, the "American Project" was launched in early 2017, following the historic presidential election of 2016 to discuss the history and future trends of the American conservative movement. Supported by an Advisory Council of leading conservative academics and policymakers, the initiative has hosted a number of public events in Malibu and in Washington, DC, including the "Social Capital Summit" in 2019 on Capitol Hill in partnership with US Senator Mike Lee and his Joint Economic Committee. Over the three-plus years since it began, the American Project has also sponsored a series of opinion pieces published at a dedicated online "channel" on the website, RealClearPolicy.com.
Originally convened as an effort to discuss the future of conservatism, after an initial gathering on our Malibu campus in June 2017, the group soon agreed upon a principles document titled, "A Way Forward," which argues for a reimagined "Communitarian Conservative" movement in policy and politics as a response to a perceived society-wide "loneliness." Also dubbed a "conservatism of connection," the American Project has promoted a strengthening of America's major civic institutions—from family to government—as a way of providing "points of connection" for what Tim Carney calls an "Alienated America."
Originally planned as an on-campus conference for late July, the "Quest for Community" webinar series will discuss a number of issues related to the future of American conservatism, from the foundational question, "How did we get here?" to what does a Communitarian Conservatism mean on issues like race.
Between 4-5 webinars are being scheduled for this series, which begins in July and will continue into the fall, with the postponed on-campus conference planned to occur next spring.