School of Public Policy Announces Dr. Ted McAllister as Professor of Public Policy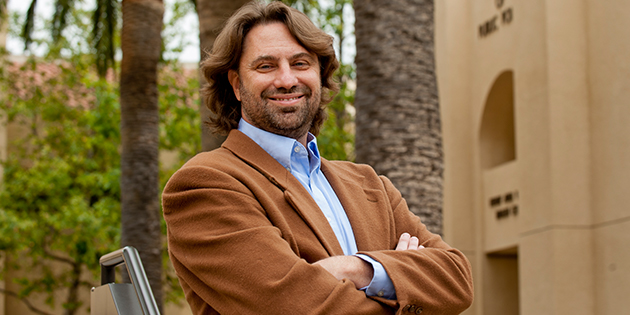 The Pepperdine School of Public Policy (SPP) is pleased to announce Dr. Ted McAllister as professor of public policy. Dean Peterson announced this promotion on August 1, 2020. McAllister has dedicated more than 22 academic years of service to Pepperdine University when he first started teaching in 1998.
McAllister teaches the core class entitled Ethical Dimensions of Public Policy: Great Books and Great Ideas, as well as a variety of elective courses that focus on putting policy debates in larger historical and philosophical contexts, including such classes as Comparative Federalism, Public Policy in Modern America, and American Democratic Culture.
"A two-time winner of Pepperdine's highest teaching award, Ted's scholarship and teaching are appreciated by students and colleagues alike," said Pete Peterson, Braun Family Dean at the School of Public Policy. "This promotion is a partial, but important, recognition of his over two decades' work here at the School of Public Policy," he added.
McAllister, an intellectual historian, brings a historical imagination to the public policy curriculum, a perspective not typical of such programs. His training well equips him to press students to ask the foundational moral questions concerning public policy, leading them back to first principles. A graduate of Oklahoma Christian College, he earned his master's degree from Claremont Graduate School before completing his doctoral degree in American intellectual and cultural history at Vanderbilt University. A recipient of the Woodrow Wilson Foundation's Charlotte W. Newcombe Doctoral Dissertation Fellowship, he also received the Leland Sage Fellowship as well as several additional grants including one from the Earhart Foundation. The author of a volume entitled Revolt Against Modernity: Leo Strauss, Eric Voegelin, and the Search for a Postliberal Order, a textbook on American history entitled The Promise of Freedom: A History of the United States, and his most recent book, Why Place Matters: Geography, Identity, and Civic Life in Modern America, with Dr. Wilfred McClay. Among his other publications, he has authored the chapter "Reagan and the Transformation of American Conservatism" in The Reagan Presidency. McAllister has lectured frequently on the nature and future of American conservatism, including recent presentations at Oxford University and at Universität Erlangen-Nürnberg in Germany. In addition to his research into conservative philosophy, he is currently working on a history of the baby boomer generation. He served as the 2012-2013 James Madison Program Visiting Fellow at the James Madison Program in American Ideals and Institutions at Princeton University.
McAllister serves (with the late Jean Bethke Elshtain and Dr. Wilfred "Bill" McClay) as an editor of Rowman & Littlefield's book series, American Intellectual Culture, which is designed to produce books that examine the intersection of culture and politics in American history.