Services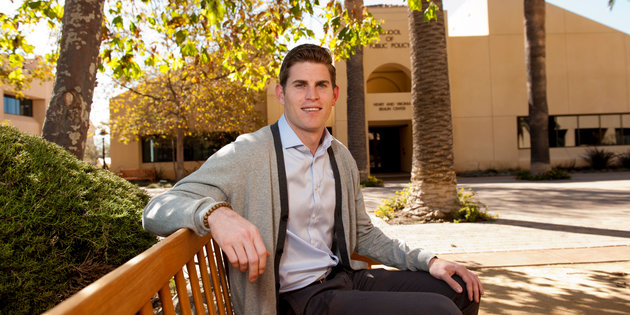 How We Help
The Pepperdine School of Public Policy Career Services Office is dedicated to partnering and supporting students as they develop professional strategies and prepare for their futures as agents of change. Students are encouraged from their first day to take advantage of all the services offered to ensure their professional success before and after graduation. Alumni are encouraged to continue this partnership after graduation.
Alumni Networking
Several times each academic year, panels of alumni return to campus to facilitate informal conversations and seminars with students about internship and career experiences, and offer job search tips. Students can be connected with alumni working in similar areas of interest to provide career advice within their industry. In addition, annual alumni networking events are held in Washington, D.C., to provide students and alumni with opportunities to interact.
Assessments
Students may take one of several personality, preference, and value assessments including the Myers-Briggs Type Indicator® (MBTI). These tools help a student enhance his or her understanding of personal motivators, natural strengths, and potential areas for growth. It also helps one understand characteristics unique to each preference type, while providing insight on how these characteristics influence ways of communicating and interacting with others. These assessments are available during individual career exploratory coaching and planning sessions with the director of career services. Alumni are also welcome to utilize these tools.
Career Services helps facilitate summer internships around the city, nation, and throughout the world that enable students to apply their classroom work to actual public policy. Career Services also maintains a job/internship search database, accessible to students and alumni. In addition, the Career Resources Center is dedicated to students and provides a space to search for future internship and career opportunities. Search Careers and Internships
Employer Information Sessions
These information sessions brought to campus by the Career Services Office give students the opportunity to ask questions to recruiters about the "real" nature of work and discover details about an organization's application process. In the past year, organizations such as the Congressional Research Service, Central Intelligence Agency, the US Department of State, American Enterprise Institute, Gallup, and the California State Auditor, among others have actively recruited on campus.
Individual Résumé, Cover Letter, and Interview Feedback
Individual appointments can be scheduled with the director of career services to review résumés and cover letters to tailor submissions to specific internships and jobs. Assistance is also available to conduct mock interviews in person, over the phone, and via Skype. For more detailed guidance, students may make individual appointments for videotaped practice interviews. Follow-up coaching is also available to help students grapple with stress interviews, salary negotiations, and the first few weeks on the job. These services continue after graduation to support alumni in their future job transitions.
Internship Mixer & Workshop
The all-class internship mixer is designed to facilitate insightful discussions and sharing of experiences between returning second year students and incoming first year students. Students reveal victories and challenges from their summer internship experience for an engaging two hour event. The internship workshop provides detailed information about the internship process for all first year students. The director of career services leads the session to review all requirements and documents needed for successful internship completion.
Public Policy students and alumni can utilize the job board to search for jobs and open positions in the areas of public policy that are of interested to them. Explore the Job Board
In this unique virtual community, Pepperdine alumni, faculty, staff, and parents have made themselves available to offer the exact resources you're looking for in one convenient location. Log in today to build professional, personal, and purposeful relationships with Pepperdine people all over the world.
Pepperdine Career Week
This annual week-long series, which takes place every February, provides cross-discipline guidance on job search strategies and tactics. The School of Public Policy Career SServices Office hosts workshops and alumni panel discussions that are open to all students, alumni and friends of Pepperdine. Alumni guest speakers visit to lecture on topics such as getting a foot in the door, networking, and current trends in the job market.
The Presidential Management Fellowship program, established by Executive Order in 1977, is designed to attract to the Federal service outstanding individuals from a wide variety of academic disciplines. Eligible individuals are graduate students who are completing or expect to complete a master's or doctoral-level degree and have a commitment to a career in public policy. Finalists receive an initial two-year appointment and may be eligible for a permanent government position and accelerated promotional opportunities. The School of Public Policy is proud of the graduates who have received these prestigious fellowships. The preparation is a part of the program and aims to pair prospective Presidential Management fellows with past alumni fellows. In 2006, the seminar was extended to help students applying for the local government fellowships.
Student Services Newsletter
A weekly electronic newsletter keeps students informed of important dates, student services' events, newly available internship and job postings, and more.
Workshops & Seminars
Workshops useful to a student's career and internship search are held throughout the year, including the "Communication Skills in the Workplace," "Social Media & Email Etiquette," and the "Federal Job Search" workshops.