What is the Role of the "Public" in Public Policy?
What You Can Do with a Master of Public Policy Degree
Below is a Q&A with School of Public Policy Pete Peterson (MPP '07), dean of the Pepperdine School of Public Policy.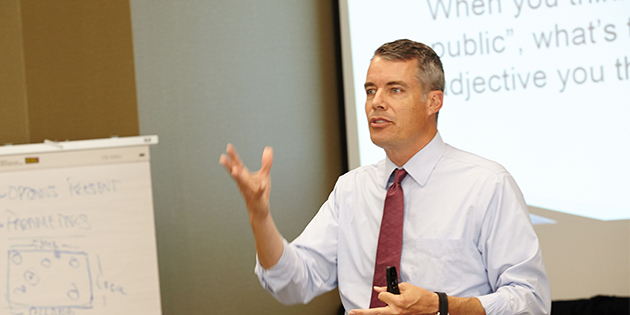 ---
Q: When you say that Pepperdine "puts the public into public policy," what do you mean?
A: We define this statement in two ways. First, we teach our students that the "public" is not a "mass" or a faceless group, but a particular set of individuals living in a particular place and a particular time. Public policy isn't created in a test tube with results from one "experiment" dependable in another; it is always shaped by environments and the public with whom you're serving. It's why we teach classes in history and political/economic philosophy along with the quantitative coursework in policy analysis. We understand that the social policy that works in Malibu, California, probably won't work in Fresno, California, or Vienna, Virginia, or Baghdad, Iraq. Policymakers must understand the context in which they're working, and thinking historically as well as quantitatively is an important perspective to develop.
Second, we teach public engagement as a leadership skill, and one that can be used by a State Department official working in Eastern Europe or a city manager working in the Seattle area. From facilitation skills to process design to using the latest technology, public leaders must find ways to better communicate policy ideas and gather feedback. We teach this in the classroom, but also to current public officials through training seminars led by our Davenport Institute for Public Engagement.
Finally, as a graduate program based at a Christian university we also see the "public" as individuals created in God's image. So whether we're developing criminal justice policy or foreign policy, we remember our common bonds of humanity.
---
Q: Why is it important for public leaders to think and act with the public in mind?
A: In one sense, we're living in an era where "experts" are broadly distrusted by the public, and with some good reason. This is particularly true in public policy and our politics, so finding ways to better involve the public—to be transparent about intentions and available information—is a vital perspective for leaders to have. But there's also a pragmatic dimension to this too. Frankly, public policy stands a better chance of being improved and sustained when policymakers engage their publics at the earliest possible stages.
I'll never forget the planning director for a major American city telling me at a conference that, "we always put people up in front of the public who are the least prepared to be there." What she meant was that while her planners had technical expertise in building heights and setbacks, when that knowledge met a public, which may have more personal information about the impact of that decision, her staff were incapable of incorporating this feedback. Again, this is both a way of understanding who the public is, along with the skills inherent in creating a participatory public process.
---
Q: These planners you mention probably went to good graduate schools. Are you saying this public-facing perspective is unique to Pepperdine?
A: Absolutely. I wrote a piece recently for the Wall Street Journal in which I argued, with some tongue-in-cheek, that graduate policy schools were responsible for this populist era in our politics. To be clear, they're not completely responsible, but I stand by the main point of my editorial that the majority of graduate policy and planning programs prepare experts who, like those big city planners, see the public as a group of people who need to be told what's best for them. If there's anything we're seeing in our politics today, it's that this "I'm the expert; you're the ignorant public" model of policymaking is falling apart.
---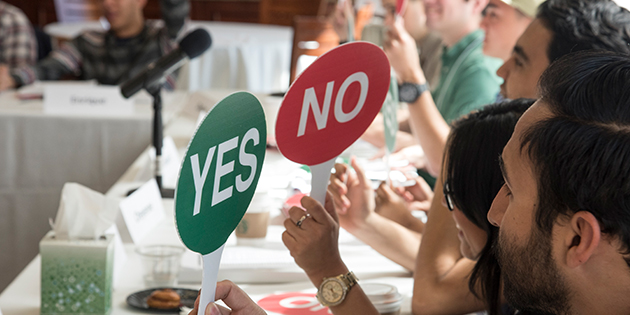 A: The Davenport Institute is unique in the country for its focus on supporting public engagement in policymaking in such a comprehensive way. Outside the classroom, the Institute trains and consults with local and state government officials, promoting the skills for leading more effective public processes. Over the past seven years, the institute has trained more than 2,000 police chiefs, planners, city managers and others around the country in a variety of seminars—from webinars to a new multi-day certificate program. They're also brought in by cities to advise them on how they can find policy solutions to local issues through improved public processes.
Inside the classroom, the institute acts as the school's liaison with the local government world, hosting speakers and policy practitioners throughout the year, and finding internship and job opportunities for our students and alums. This also includes looking at the ways technology is changing the government/citizen relationship through coursework and speakers on transparency platforms, and participation sites.
---
Q: So Pepperdine is distinctive in the focus on how the public can be better involved in politics and policy. What do you think it means for students and alums?
A: I really believe the field of public policy is changing in ways that align with the approach we established several years ago. We are seeing a few other programs begin to introduce coursework in public engagement skills, but none have taken our holistic approach, which combines our liberal arts curriculum with the skills-building piece, and the "on-the-ground" institutional presence.
We are beginning to see public sector employers list these kinds of skills on position descriptions, and we hear back from alums who have benefited from this education. Also, we're seeing terrific growth in job opportunities in the "govtech" space, and introducing our students to leaders in this world opens up exciting new career options.
It's a thrilling time to be in public policy with so many changes happening, and I know our public-focused perspective is the best way to prepare leaders for this new environment.
---