Welcome Accepted Students
Congratulations on being admitted to the Pepperdine School of Public Policy (SPP)! We are humbled that you are entrusting us to be a part of your academic journey and we look forward to providing you with an educational experience that is values-based, immersive, and rewarding.
2022 marked the 25th year of the Pepperdine School of Public Policy. Founded in 1997, SPP is built on a distinctive philosophy of preparing public leaders to use tools of analysis combined with their moral sense to affect successful implementation and real change. Through a curriculum grounded in understanding policy's inherent philosophical and historical dimensions, SPP prepares cross-sector leaders for careers that strengthen the institutions of the private, nonprofit, and government sectors.
At Pepperdine University, we shape leaders to make a difference. Our approach to academics and to careers is about inspiring a deeper understanding of the world in which you live and work.
Our MPP is uniquely situated to educate our next generation of public leaders—not "experts" who sit removed from the public—but servants who humbly and knowledgeably engage residents in making decisions that affect our day-to-day lives. We truly see our mission as "putting the public into public policy." We do this through our academic pursuits inside and outside the classroom, as well as our view of how faith shapes all aspects of the public square.
We cannot wait to walk alongside you as you pursue human flourishing through policy leadership.
Please reference the following next steps to help ensure you are prepared to start your program.
---
Accepting Your Offer Next Steps
Activate your account on WaveNet, Pepperdine's student information system.

Your WaveNet activation email was sent to you after your acceptance to the program.
If you need your WaveNet activation email resent, please contact SPPAdmissions@pepperdine.edu

Fill out and return your intent-to-enroll form, and scholarship agreement if applicable. This is an eSign document sent to your email.
Pay your non-refundable tuition deposit of $400 dollars.



Log on to WaveNet.
Within the Applicant tab, select "Applicant Center" under Applicant Services.
Look for the "Finances" section toward the bottom of your Applicant Center.
Look for the "My Account" section under the Finances section, and then select the "Make a Deposit" option.
Next, you will select "Student Account Payment". Note: you will need to have pop-up blockers turned off as the payment screen will appear in a pop-up window.
Enter the amount of $400.00 as specified in your acceptance letter. Nothing will show as due.
You will then select "Add to Current Transaction" and then "Begin Checkout".
Finally, you will select your payment method and select "Complete Checkout".
International Students can find information online for making an international deposit.

After submitting the intent-to-enroll form and edeposit, the University will create and activate your Pepperdine email account. Please remember that your Pepperdine email address is the official email used by the University; check it often for important messages and announcements about your program.
The University has created a New Student Technology Guide that will help introduce you to IT and the technology services that will enable you to be a successful student.
By completing the intent-to-enroll form and deposit, you will be accepting your offer of admission and will hold your seat in the program. Prior to registration, you will hear from the Office of Admissions and Student Services who will assist you with enrolling in classes and introduce you to key program guidelines such as policies and procedures at New Student Orientation.
---
New Student Resources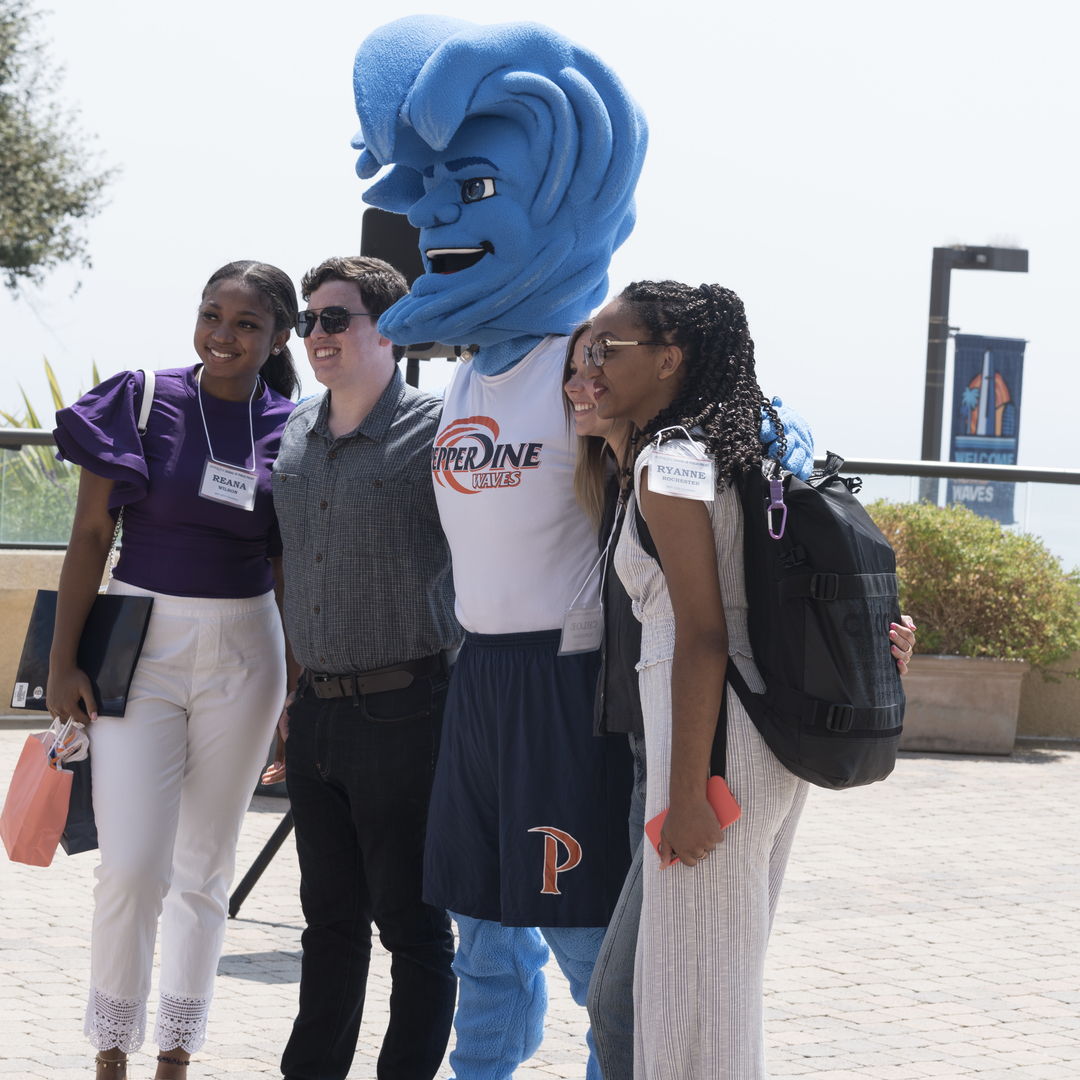 Download the New Student Resource Guide
The Student Services Office strives to empower, encourage, and educate students for success. Please view the Student Resource Guide to learn how to utilize the services at the University to maximize potential opportunities and fulfill your professional and personal goals.
Important Links
---
Financing Your Degree
The Financial Aid Office at the Pepperdine School of Public Policy strives to provide comprehensive aid packages that meet the needs of each student's academic goals. This includes a combination of gift (grants and scholarships) and self-help (student loans and federal work-study) aid. Internal scholarship offers are merit-based (not need-based) and will not exceed the cost of tuition. Students are also encouraged to explore external scholarship opportunities. Except for Veterans' Benefits, generally, external scholarship awards will not reduce awarded internal scholarship offers.
Questions about the process may be directed to the Office of Financial Aid at 310.506.7493.
---
Contact Us