US Secretary of Education Betsy DeVos Delivers 2019 Patricia Tagliaferri Dean's Distinguished Lecture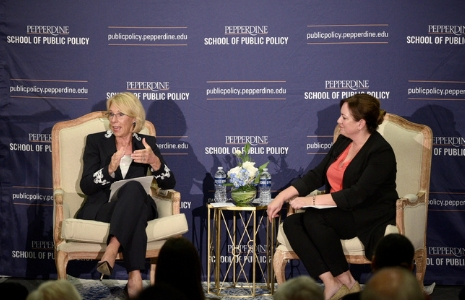 On Wednesday, December 4, 2019, Pepperdine School of Public Policy (SPP) welcomed Betsy DeVos, the 11th US Secretary of Education, to deliver the 2019 Patricia Tagliaferri Dean's Distinguished Lecture on "A Life in Education Impact."
Education policy—a growing initiative at SPP—is focused on preparing the next generation of leaders to impact and improve the nation's education system through better public policy. Hanna Skandera (MPP '00), SPP's fall 2019 visiting professor of education policy and impact, former secretary of education in New Mexico, and president and chief executive officer of Mile High Strategies, LLC, returned to SPP this year to assist in the implementation of this new initiative.
Dean Pete Peterson introduced Secretary DeVos, noting that her leadership in education policy, "has spanned three decades, and three sectors—from the private sector to nonprofit work, and now in government." He added, "It is an honor to welcome a public policy leader of such courage and faith."
DeVos opened the lecture detailing four areas that influenced her views and passion for education: viewing education as a mother/parent, as an employer, as a policymaker, and as a human being. Following the lecture, there was a question and answer session accompanied by Skandera made up of questions generated from the audience.
"A critical role of higher education is education policy and the future of education in this country," she states, "we need bold leaders to come up in the education world that are willing to challenge what has been for the sake of what can be."
The audience asked, "what would the ideal American education look like?" DeVos responded, "students and families empowered to find the right fit for each child," and continued by explaining "the industry of education is the least changed and least disrupted. We policymakers need to think differently and creatively about what education means and how it looks."
DeVos was confirmed by the US Senate on February 7, 2017, after being nominated by President Donald J. Trump. She has been involved in education policy for nearly three decades as an advocate for children and a voice for parents. She is especially passionate about reforms that help underserved children gain access to a quality education.
DeVos' interest in education was sparked at an early age by her mother, a public school teacher. It grew when she sent her own children to school and was confronted with the reality that not every child in America is granted an equal opportunity to receive a great education. DeVos saw firsthand the work leaders in her hometown were doing to increase educational opportunities for students and choices for parents, and she has been involved in the fight
to provide better educational options across the nation ever since.
For 15 years, DeVos served as an in-school mentor for at-risk children in the Grand Rapids, Michigan, public schools. Her interactions with students, families, and teachers, according to DeVos, "changed my life and my perspective about education forever." A leader in the movement to empower parents, DeVos has worked to support the creation of new educational choices for students in 25 states and the District of Columbia.
As secretary, DeVos works with President Trump to advance equal opportunities for quality education for all students. DeVos firmly believes that neither the zip code in which a child lives nor a child's household income should be the principal determinant of his or her opportunity to receive a world-class education. She advocates for returning control of education to states and localities, giving parents greater power to choose the educational settings that are best for their children and ensuring that higher education puts students on the path to successful careers.
Watch the 2019 Patricia Tagliaferri Dean's Distinshuished Lecture with US Secretary of State Betsy DeVos.