SPP Presents Spring '18 Policy Intensive Series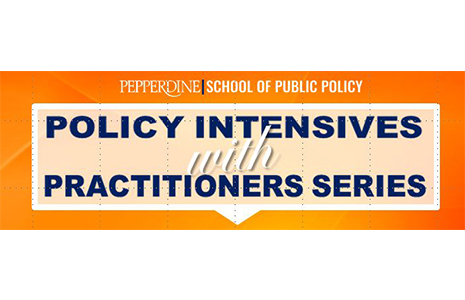 Throughout the Spring 2018 semester the Pepperdine School of Public Policy will host the Policy Intensives with Practitioners Series—a set of half-day workshops focusing on timely topics in public policy. All sessions will take place on Fridays at Drescher Graduate Campus, from 10 AM to 2 PM.
This semester's program will include:
Dealing with Asia: Dollars and Democracy
Guest speaker:
Terry McCarthy
President and CEO
Los Angeles World Affairs Council
This workshop will provide an overview of Asia's economic and political development and the evolving role of US policy in the region. McCarthy will look at the region from China's perspective, channeling Xi Jinping and the narrative he tells his own people. Finally there will be detailed look at five countries - Korea, Japan, India, the Philippines and Thailand– and examine how they are and will be affected by the battle for ideas between the US and China.
Issues Facing the World's Largest County
Guest speaker:
Tony Bell
Assistant Chief Deputy/ Communications Deputy
Office of L.A. County Supervisor Kathryn Barger
Bell will be discussing issues that are currently facing Los Angeles County, the largest county in the United States.
Civil Liberties and National Security: FBI vs. Apple, Inc.
Guest speaker:
Kay Ko
Community Outreach Specialist
FBI Los Angeles, Office of Public & Congressional Affairs
The public policy arguments advocating enhanced protections for civil liberties and the competing national security concerns underlying government efforts to protect citizens against foreign and domestic threats have presented a conflict of interests from both sides of the argument. The goal of this session is to carefully weigh the costs and benefits to society of each position and seek to identify the concerns most impacting the welfare and security of the American citizens..
​
All workshops are open to the public. Professional development credit is available for current School of Public Policy students. Admission is free and tickets are required to attend.
Click here for additional information about the series, and to register to attend.