SPP Hosts Commencement for the Class of 2020 and Class of 2021 in Malibu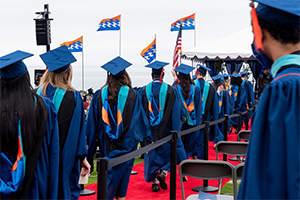 On Friday, May 14, 2021, Pepperdine School of Public Policy (SPP) hosted a limited capacity in-person commencement ceremony for the resilient Class of 2020 and Class of 2021 in Malibu at Alumni Park.
Dr. Hattie Mitchell (MPP '12) SPP alumna and visiting professor of education policy and impact and the founder of Crete Academy, opened the ceremony with the benediction and the Pledge of Allegiance. Recent Seaver College graduate, Kaytlin Withers ('21) sang the National Anthem.
"It took an incredible team effort to organize a commencement that will be remembered for years at SPP," described dean Pete Peterson. "From SPP and University staff to our graduates and their families, everyone contributed to host a ceremony that was both solemn and celebratory. I'm so grateful to all who helped make it possible," Peterson added.
Peterson delivered Brigitta Sanchez-O'Brien's (MPP '20) speech for the Class of 2020 due to the inability to make it to the in-person commencement ceremony. Sanchez-O'Brien graduated at the top of her class with specializations in international relations and national security and dispute resolution. She has a background in communications media, and during her time at Pepperdine, she interned with the Brenden Mann Israel Internship Program at the Jerusalem Institute of Justice in Israel. Since graduating, she has moved to Tennessee and now works with the media outlet The Daily Wire. Sanchez-O'Brien includes in her speech, "We're celebrating an impressive accomplishment today, but we do so with a more sober understanding of what it means to move from school to work—from theory to practice."
The Class of 2021 speech was delivered by Abigail Scott (MPP '21). She worked for the Davenport Institute for Public Engagement and Civic Leadership as a graduate research assistant, where she was responsible for conducting program evaluations and developing recommendations for improving citizen-to-government communication throughout California. She also founded the school's Politics in Public Policy student organization in order to foster constructive political discussion among graduate students. To broaden her experience in public engagement, Scott served as an intern at the White House Office of Public Liaison. In this role, she built and strengthened coalitions with a variety of constituencies across the country, including faith, veteran, and military family groups and BIPOC communities. Scott specialized in state and local policy at the School of Public Policy, earning professional certificates in Advanced Public Engagement for Local Government and in Leading Smart Communities from the Davenport Institute for Public Engagement and Civic Leadership.
Each year, SPP recognizes one outstanding alumnus and invites them to speak at commencement. This year, Vianey Lopez (MPP '12) was honored as the distinguished alumnus. She has a heart for public service, having spent more than 10 years as a government official. She currently serves as district director for state senator Monique Limón, who represents Santa Barbara County and a portion of Ventura County. Before joining the state government, she served as district scheduler and district director for former US representative Lois Capps in Santa Barbara. Lopez was elected to the Hueneme Elementary School District Board in 2012, where she served for six years. As a school board member, she advocated for increased parent involvement and the dual-language immersion program. In 2018 she was elected to the Oxnard City Council representing District 6 and was re-elected to a four-year term in 2020. As a public servant, Lopez ensures that the South Oxnard community has a voice on local matters while also advocating for youth, working families, housing, and public safety at a citywide level. Lopez is an active member in the community, serving for the past 10 years on the board of directors for the nonprofit Future Leaders of America and as a contributor to other civic organizations. Lopez earned a bachelor's degree in business administration from Loyola Marymount University in 2009 and a master of public policy from the Pepperdine University School of Public Policy in 2012.
With a few closing remarks from president Jim Gash and Peterson, Dr. Robert Kaufman concludes the ceremony with a quote comparing Shakespeare's "To thine own self be true," to the Beach Boys, "Be true to your school."