SPP to Cohost Martin Luther King, Jr., Webinar with National Steinbeck Center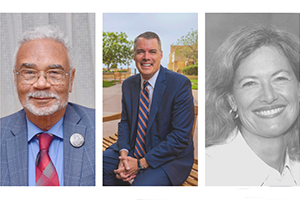 The School of Public Policy (SPP) will cohost the second in their year-long Steinbeck Conversations series with the National Steinbeck Center in Salinas. Scheduled for Wednesday, January 13, 2021, from 4:00 PM to 5:30 PM (PST), the upcoming webinar will focus on the intersection of Dr. Martin Luther King Jr.'s civil rights work in California, John Steinbeck's relationship with King, and the broader history of civil rights movements on California's Central Coast.
Moderated by Pete Peterson, Braun Family Dean's Chair at SPP, the conversation will feature two noted scholars from Stanford University. Dr. Claiborne "Clay" Carson is the founder of the Martin Luther King, Jr., Research and Education Institute at Stanford University, where he is also the Martin Luther King Jr. Centennial Professor Emeritus of History and senior fellow at the Freeman Spogli Institute for International Studies. He has devoted most of his professional life to the study of King and the movements the iconic orator inspired. The institute hosts the papers of King, including letters written between him and Steinbeck.
Dr. Carol McKibben will also be joining the discussion. McKibben is an authority on ethnic and race relations for California's Central Coast region who has just completed her third book project, SALINAS: Race and Resilience in an Agricultural City (Stanford University Press, 2021). She is an affiliate scholar and lecturer with The Bill Lane Center for the American West and with the urban studies program at Stanford University and has been teaching courses on urban history, California history, immigration, and race and ethnicity at Stanford University for 15 years.
This webinar follows the first in this series, featuring historian and Steinbeck expert, Dr. David Wrobel (University of Oklahoma), and recent Ronald Reagan Professor of Public Policy at SPP, Dr. Bill McClay. The overarching theme of the four-part series is exploring Steinbeck's use of history in his fiction writing as well as in his journalism.
"As a graduate policy program that places such an emphasis on the importance of history in informing present-day decisions, I'm excited about this partnership with the National Steinbeck Center, and especially this upcoming event looking at Dr. King's significant impact on civil rights movements here in California and his relationship with Steinbeck," dean Peterson noted. "I think viewers will learn a lot—as I already have—about this important history."
Register for this webinar through the National Steinbeck Center