Feb 10: General Wesley Clark and Secretary Andy Card to Discuss National Security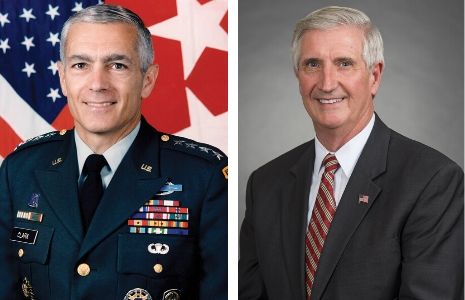 The Pepperdine School of Public Policy and the New Roads School will host an evening event titled "A Bipartisan Discussion on National Security with General Wesley Clarck and Secretary Andy Card." This discussion will take place on Monday, February 10, at the Ann & Jerry Moss Theater in Santa Monica at 7:00 PM.
Clark and Card will take part in a bipartisan discussion addressing civility, national security, and other pressing issues facing America. They will further discuss the divide between Republicans and Democrats relating to the role of government, the environment, immigration, education and defense, and where the parties can work together to meet the needs of the country.
Pete Peterson, Braun Family Dean Chair at the Pepperdine School of Public Policy, will moderate this discussion.
Clark created Renew America Together, a nonprofit organization designed to promote and achieve greater common ground in America by reducing partisan division and gridlock. Its mission is to revitalize public and political discourse by teaching and promoting civics, citizenship and civility.
Card is chairman of the National Endowment for Democracy (NED), a private, nonprofit foundation dedicated to the growth and strengthening of democratic institutions around the world. Each year, NED makes more than 1,600 grants to support the projects of non-governmental groups abroad who are working for democratic goals in more than 90 countries.
Tickets on sale now:
Members: $30
Non-Members: $45
Use promo code: clark10 to get member-rate tickets. (case-sensitive)
Learn more and register here.