Dr. Jonathan Reichental to Lead Smart Cities for Dummies Webinar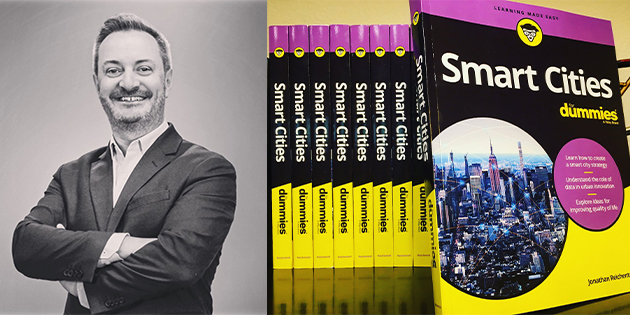 Join the Pepperdine School of Public Policy for a two-part webinar series on Smart Cities for Dummies with Dr. Jonathan Reichental on Thursday, August 20th and Thursday, August 27th at 10 AM PT.
Reichental—one of America's leading thinkers on the deployment of technology by our local governments— is the Chief Executive Officer of Human Future and former Chief Information Officer (CIO) for the City of Palo Alto. In this two-session interactive webinar, Reichental will argue that developing and leading a smart city is both art and science, demanding not only an understanding of the available and future technology tools, but also a leadership mindset that can encourage innovation in environments not known for experimentation. Whether you're a current public leader or a student, you'll learn and be inspired by Reichental's message about the past, present, and future of cities.
"Jonathan is an internationally recognized thinker and practitioner in fields known variously as 'govtech', 'civictech', or 'civic innovation,'" noted Pete Peterson, the Braun Family Dean at Pepperdine's School of Public Policy. "As a graduate program that is focused on preparing leaders who put the 'public' at the heart of 'public policy,' I'm excited to host these sessions based on Jonathan's important new book," he added.
Reichental shares, "I'm so delighted to be partnering with one of the country's leading schools of public policy in sharing and discussing the opportunities and challenges for building smarter and more sustainable cities. Preparing our communities for the years and decades ahead in order to provide a good quality of life for everyone may be humanity's biggest project yet."
Webinar Schedule:
Thursday, August 20
Day 1: The Past and Future of Smart Communities—Smart Cities: From Rome to Today
It's Not Just Tech: Creating a Culture of Innovation in Your Community
How It Fits Together: Important Tech Trends in Local Government and a View of the Future
Thursday, August 27
Day 2: Considering a Career in the Smart Community Revolution
From Private-Sector Tech to GovTech: How I Got Started in Smart Communities
Smart Communities Opportunities for Technologists
Smart Communities Opportunities for Non-Techies
The Tech Every Public Leader Needs to Know
Reichental is a multiple award-winning technology leader whose 30-year career has spanned both the private and public sectors. In 2017, he was named one of the top 100 CIOs in the world and in 2016 he was named a top influential CIO in the United States. Reichental is also recognized as a global thought leader on a number of emerging trends including urban innovation and blockchain technology. In 2013 he was recognized as one of the 25 doers, dreamers, and drivers in government in America. He also won a best CIO in Silicon Valley award and a national IT leadership prize. His innovative work in government has also been recognized by the White House. Reichental is an adjunct professor at several universities including UC Berkeley and the University of San Francisco. He is a popular writer and online host, producing several highly successful online courses with LinkedIn Learning. He co-authored The Apps Challenge Playbook and he is a frequent public speaker on a wide range of technology and business-related topics. He co-hosts the popular podcast, Drinking Wine Talking Tech. His new book, Smart Cities for Dummies, is out now.
Registration is limited, register today.