The Connection Between a Master of Public Policy and Education Policy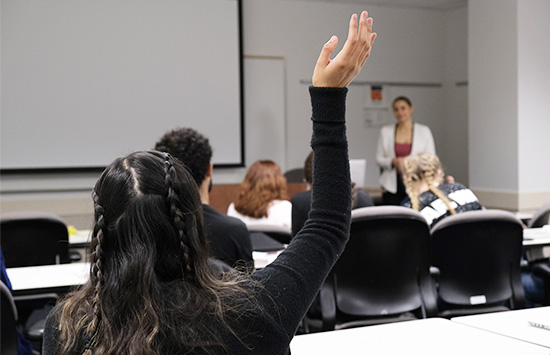 Education policy is a vastly complex arena. In recent years, education has taken center stage in American politics. As administrators and parents of students in the public education system debate about the direction of education, policymakers need to learn how to navigate the complex issues facing the education system artfully. At the Pepperdine School of Public Policy (SPP), students learn how to navigate the vastly complex landscape of the American political system. Through our curriculum, students will learn to think critically about policy issues and formulate solutions.
Visiting Professor of Education Policy and Impact
In the fall of 2019, SPP launched the Education Policy and Impact initiative. This is a multi-part initiative intended to prepare policy leaders as it engages current policymakers in civil discussions about the future of America's K-12 education system. In the classroom, our Visiting Professor of Education Policy and Impact—a revolving position previously held by Hattie Mitchell (MPP '12), the founder of the Crete Academy charter school in South Los Angeles, and Hanna Skandera (MPP '00), chief executive officer of Mile High Strategies—teach the Education Leadership, Policy, and Politics course. The Advisory Council of the initiative—composed of the country's leading education policymakers, researchers, and activists—meets regularly to discuss new coursework and new opportunities. Likewise, SPP hosts events discussing the trajectory of current education policy, which offer students insight into how education policy is formulated and implemented.
Floyd Black Fellowship at Crete Academy
Based on our commitment to equipping our students to make a difference in education policy, we offer an internship opportunity for students interested in pursuing a career in education policy. Floyd Black, whose untimely passing in October of 2020 is still profoundly felt at SPP, had a keen desire to make a tangible impact on education policy. In his honor, SPP created the Floyd Black Fellowship, an annual scholarship program supporting a summer internship for an SPP student to serve at the Crete Academy in South Los Angeles. Crete Academy, founded by the aforementioned SPP alum and visiting professor, Mitchell, serves students from TK–6th grade homeless or living in deep poverty. The vision of the Crete Academy is to end cyclical poverty and equip students to transcend their economic stations. It is an essential part of our education policy initiative.
SPP's curriculum prepares potential policymakers to make a tangible impact within the government, nonprofit, and policy-related business sectors. Education policy is of tremendous importance to our mission. Our country's commitment to educating as many people as possible is admirable. We must ensure that students in the public education system in our 50 states are ready to carry the torch of American freedom in their lives. Crafting sound education policy is of grave importance, as it directly impacts the trajectory of our nation. At SPP, we are equipping the next generation of education policymakers to understand education policy problems. From our unique curriculum and perspective, students will be able to advise and inform policies that will impact future generations.
Topic Covered in Education Policy Courses
Changing roles and relationships of government
Importance of bold decision-making from a system-wide perspective
Leaders who guided policy and grassroots efforts
Levers for student outcome impacts
Policies that shaped the Ed Reform Movement
Political divides
Role of leaders
School choice, charter schools, vouchers
State and federal role of education policy
Systemic roles in state policymaking (school boards, districts, departments of education)
See education policy differently from here.