How Business and Public Policy Shape One Another
Master of Public Policy Careers
Below is a Q&A with School of Public Policy alumnus Sean Whitney (MPP '15), health policy analyst at Anthem. Whitney received a BS in business administration from Pepperdine University.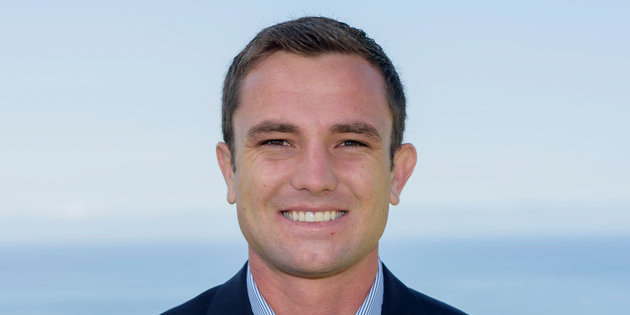 ---
Q: Thirty-six percent of our alumni go on to work in the private sector. How has your Pepperdine master of public policy (MPP) degree helped you to navigate through your current position as a health policy analyst at Anthem?
A: Pepperdine's MPP degree program led me to work directly for Anthem's public policy team within the corporate Public Affairs department. Utilizing the skillset obtained at Pepperdine, I help formulate Anthem's positioning with our public affairs team on key policy proposals advance through the legislative and regulatory processes. Most recently with the 2016 presidential election, there was a tremendous amount of work both before and after the election with the potential for significant health care reform. Due how highly regulated the health insurance industry is, there is a heightened need within healthcare companies for constructive engagement with regulatory agencies.
---
Q: You specialized in economics and public policy (now applied economic policy), how have you been able to apply the in-depth study in the areas of economic development and the appropriate role of the government in a market society, for example, in your daily work?
A: In my role as a health policy analyst, I consistently analyze and break down medical journal findings, Congressional Budget Office (CBO) reports, and other budget-related forecasts using the deep quantitative skills obtained within the economics specialization. In the realm of policymaking, there is also an increasing amount of think tanks conducting similar analyses with the goal of changing policy either through legislation or regulation. As payments shift from volume-based to value-based, risk-sharing arrangements is one area that is primed for in-depth study and economic policy.
---
Q: Working at a major managed healthcare company, you interact regularly with government and its regulations and laws-- what specific skills, class(es), or extra/co-curricular programs did you find at the School of Public Policy (SPP) that you can say have helped to make you successful in working on public policy initiatives while they interact and shape the business you are in?
A: Dr. Blanco's macroeconomics and Dr. Prieger's microeconomics and econometrics courses laid a solid foundation for economic analysis, theory, and practical applications in the healthcare arena. Most notably, forecasting is an important skill when it comes to planning for a managed care company that operates in a risk-based model.
---
Q: Why do you think private sector companies seek out master of public policy graduates to hire?
A: Private sector companies must be cognizant of the political environment in which they operate as well as the laws and regulations that could potentially change their business model. Healthcare, especially, is one industry that is regulated at many different levels and thus, companies operating in this arena can benefit from employees who constantly survey the business environment for risks and opportunities associated in regulation and legislation. Furthermore, public policy is a more proactive business unit that seeks to limit compliance burden on the back end when a law or regulation becomes effective. Influencing decisions when a regulation or legislation is in its initial phase is much preferred over not having a seat at the table.
---
Q: What do you consider the biggest hurdle or challenge facing the relationship between business and government?
A: The biggest challenge facing a business are consistently 1) competition and 2) politics/government intervention. In the case of health insurance, competition is severe as consumers typically gravitate towards a plan option with the lowest priced premium. A health insurance product is also much different from a traditional flat screen TV or iPod, in that there are different cost-shares, deductibles, in-network, and out-of-network services. Recently, there has been an increased push for single payer healthcare, threatening a significant portion of private insurance carriers' current business. A Medicare-for-all proposal would likely trade off significant increases in payroll taxes for a lack of consumer choice, a basic level of benefits, and a potential for supplemental plans to be sold in conjunction. Ultimately however, many large employers and union groups prefer private carriers' delivery system now with the ability to tailor their plans to their individual employee needs. I anticipate the topic of universal healthcare will continue to persist as many look to build upon the coverage gains associated with the Affordable Care Act. All in all, amidst a technological revolution, it is clear healthcare will remain a consumer staple.
---
Q: What role does business play in policy development and implementation?
A: Business plays a vital role in policy development and implementation as we consistently seek their feedback when commenting back to respective government agencies. Any comment letter without business input would be missing critical insight amidst a healthcare environment that is increasingly government-regulated and filled with public-private partnerships, like a Medicaid Managed Care Organization. The business teams also appreciate our public affairs insight as it guides their choice of options in terms of strategy.
---