SPP Faculty Panel Discussion on Innovation in Internet Technology and Policy at APPAM's 41st Annual Fall Research Conference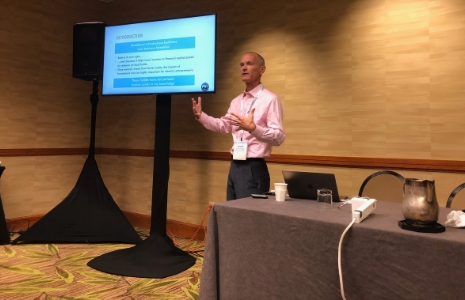 On November 7, 2019 three Pepperdine School of Public Policy faculty led a panel entitled "Innovation Technology and Policy to Further Social and Economic Inclusion" at the Association for Public Policy Analysis and Management's (APPAM) 41st Annual Fall Research Conference in Denver, Colorado.
Dr. James Prieger, professor of public policy, Dr. Anna Choi, James Q. Wilson visiting professor, and Marlon Graf, adjunct faculty in applied economic policy, paneled a discussion centered around the theme of how innovations in communications and Internet technology and policy can help reduce social and economic disparities among vulnerable groups in the United States.
The panel contributed to the overall theme of APPAM's conference, "Rising to the Challenge: Engaging Diverse Perspectives on Issues and Evidence." Prieger presented his paper, "The Importance of Broadband for Entrepreneurship in Disadvantaged Areas" that focused on positive aspects of the Internet to reduce disparities. This conference brought together men and women, minorities and others, people born in the United States and abroad, and people with different career backgrounds of academics and federal government or research institutes to gain a variety of different perspectives.