School of Public Policy Ranked Top Ten MPP Program in the West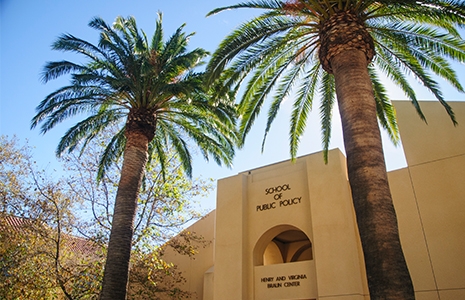 The Pepperdine School of Public Policy remains in the top ten Master of Public Policy (MPP) degree programs West of the Rockies, and top five in California in the latest edition of Best Graduate Schools for Public Affairs by U.S. News & World Report, released today. Since the most recent rankings in 2017, Pepperdine moved up four spots, improving its ranking among the 272 policy programs evaluated in the United States.
"The momentum and direction shown in the latest rankings are positive—and add up to a climb of 20 spots in just a few years," noted Pete Peterson, dean of the Pepperdine School of Public Policy. "And we solidify our position as one of the top MPP programs in the West while we retain our unique identity as a 'liberal arts professional school.' Still, we have strides to make, and the changes we have made in this past year to have us recognized as more of a 'national program' should bear much fruit."
The School of Public Policy recently celebrated its 20th anniversary with an evening gala in the Air Force One Pavilion of the Ronald Reagan Presidential Library. Nebraska senator, Benjamin Sasse, provided the keynote in which he recognized the School's unique, well-rounded approach to public policy – one that includes not only its quantitative aspects, but also what it means to consider the "public" in the creation of policy. Watch the highlight video, here.
The Pepperdine School of Public Policy offers a two-year, full-time Master of Public Policy degree program with its comprehensive James Q. Wilson Core curriculum grounded in both policy analysis and an exceptional understanding of the many factors--cultural, historical, and constitutional--that affect the implementation of public policy. Offering joint degree programs in partnership with Pepperdine's top-ranked graduate schools for business, law, and dispute resolution, the School of Public Policy will also facilitate a 3- credit summer policy scholars program in Washington, DC, on the topic of "American Gospel: The Role of Religion in US Domestic and Foreign Policy."